The second chapter of 2 Timothy is full of a series of illustrations that Paul is using to get a point across to Timothy: Stay strong in the faith. In last week's passage, we saw the image of a son, and the beginnings of the image of a soldier. In this week's passage, the idea of a soldier will be completed as well as a picture of an athlete.
You can see this week's passage in 2 Timothy 2:4-5: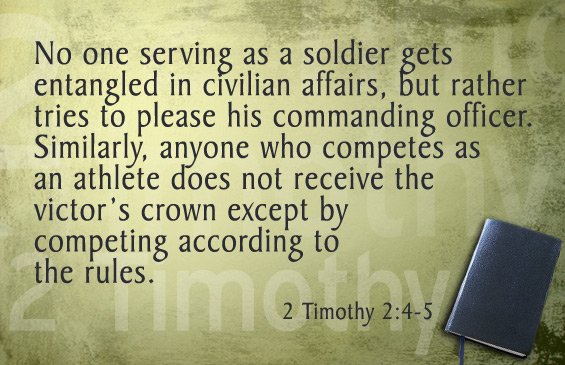 The images that Paul uses as illustrations throughout this chapter bring home forcefully to Timothy, and the rest of Paul's readers, that faith is like anything else in life. It takes endurance and effort. There is a level of commitment necessary to stay faithful.
I see three lessons to be gained from these verses. Two come from the image of the soldier, and the final one comes from the picture of the athlete.