I have often repented of speech but hardly ever of silence.
Your Monday Dose Of Inspiration
On this day in history: In 1789, Benjamin Franklin wrote a letter to a friend in which he said, "In this world nothing can be said to be certain, except death and taxes." In 1940, the Walt Disney movie Fantasia had its world premiere at New York's Broadway Theater. And in 1982, the Vietnam Veterans Memorial was dedicated in Washington DC, at the end of a weeklong national salute to Americans who served in the Vietnam War.

How To Make Chocolate Covered Coffee Beans – Why would you not want to do this? I'd leave off the coconut though.
Terrifying Creatures From The Deep Sea – A Russian fisherman caught and photographed a lot of strange things that he has found in the depths of the ocean. His photos are pretty intriguing.
How To Sleep – We live in a society that is fixated on productivity and effectiveness. As a result, we tend to deprive ourselves of sleep in order to accomplish more. But is that a good thing? This is a long article, but a very interesting look at sleep, and how it can affect our bodies and our lives.
How Does Your Body Know What Time It Is? – On the topic of sleep and wakefulness, this Ted Talk is also very interesting.
Hiding God's Word In Our Hearts
The first few verses of 1 Peter 5 are addressed to elders, but as Peter draws some application from his instructions, he shifts his focus to all of his readers. Take a look at what he says in 1 Peter 5:5-7.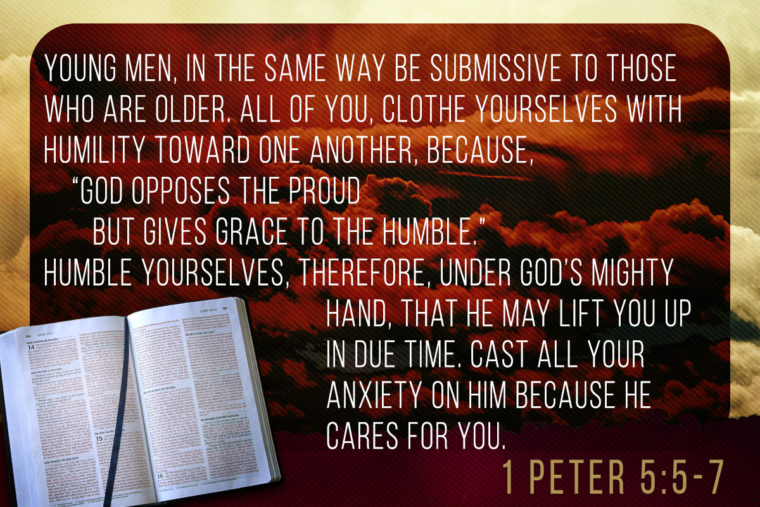 These three verses of 1 Peter 5 may be some of the most well known, and most often memorized. They are very encouraging, but they are also very much to the point, and contain some instructions that we need to make sure we follow closely. They deal with the topic of humility.
First of all, Peter gives a parallel to his instructions concerning elders to the younger men of the church community. There is some debate among commentators as to whether this is in direct contrast to his remarks to elders, or just a linguistic mechanism to shift gears. Based on what he states here, I feel that he is offering some instructions for both men and women, and especially as it relates to submitting to the authority of the elders' leadership, who have the responsibility of overseeing, or shepherding, the flock under their care.
Those instructions are a close parallel to what he has already given to the elders. The elders are not to "lord it over" those in their care; and in the same way, those younger are to submit to the authority of the elders and leadership. Both sides of this relationship are to be characterized by humility, much like Peter stated back in chapter 3, verse 8. To reinforce this, Peter quotes Proverbs 3:34, where we are told that God opposed arrogance, and seeks an attitude of humility in our hearts.
It is foolish and wrong to mourn the men who died. Rather we should thank God that such men lived.
Avalanches of evil begin with a single pebble of sin.
Some Changes Are Coming
You may know that I maintain several different sites and blogs, and have for some time. It has been sort of a hobby for me over the years, and an excellent outlet for my writing. And most of those other websites have sprung out of this one for the most part.
However, I have been struggling with some things that God has been addressing in my life, and one of those areas has been the idea of rest, and what it means to abide in him. I have come to the conclusion that there are several areas of my life where I display the characteristics of a workaholic, and something has to give if I am to fully obey and follow God's leading in my life.
In light of this, I have decided to begin to shut down some of those other websites, and focus my attention more specifically here on JeffRandleman.com. I will be restructuring my writing habits, and redefining what I want to do here. In some ways, I will be adding back what I branched off to start a different website project, as is the case with my role as a father and husband. Deliberate Men (formerly Deliberate Dads) will be reincorporated as a topic that will be addressed here. In fact, many of the posts that have appeared on that blog will be transferred here in the coming weeks, so keep an eye out for them.
In other cases, I will simply shut down the blog and save those posts as drafts for some day in the future, which may or may not ever come. Who knows? That's what will happen with the site I built to go along with my studies for a Master's degree. That site never took off, and has never developed the readers like JeffRandleman.com has. That is partly due to the fact that I didn't really publicize it, but also partly because I have placed the pursuit of a degree on hold as well for the immediate future.
All in all, I hope to clarify my focus, reduce my busyness, and more closely follow God's leading as he nudges me closer towards who and what he wants me to be. I hope you'll stay with me through the process.
Immediately, for the next couple of weeks, things will be pretty quiet around here, because before I make these changes permanent, I will be covering them in prayer for a few more days, just in order to be sure this is what I need to do. I'm pretty certain already, but I want to make sure I'm not simply pursuing busyness in just a different fashion. Your prayers would be appreciated during this time.
For the next couple of weeks, I plan on posting just a bare bones schedule, consisting of Saturday's quotes, Sunday's memorization of 1 Peter, and Monday's Coffee Break posts. Other topics, such as Bible study, book reviews, leadership, and spiritual growth will be on hold until mid-November. At that point, I'll add in godly fatherhood and marriage, as seen at Deliberate Men, along with the possibility of one or two other occasional topics.
Thanks for being with me on this wild ride. I'm excited about what God is doing in my life, and I can't wait to share it with you in more detail!
An idle life and a holy heart is a contradiction.