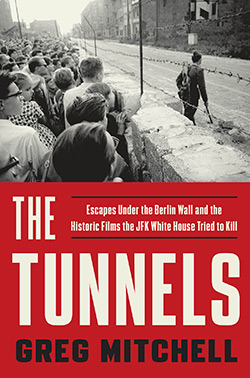 The Cold War era is a period of history I know very little about. I have read extensively on earlier periods of the twentieth century, and lived through much of the latter portion of it. But that period covering the 1950s, 1960s and into the 1970s has always been of lesser interest to me.
That changed somewhat when I was able to read The Tunnels, a history of the earliest years of the Berlin Wall. The Tunnels focuses on the escapes from East Berlin to the West, and those primarily achieved by using tunnels dug under the Wall and the death strip that buffered it in the East.
While many attempts were made, only a few succeeded, and only a couple really succeeded well. One such was a tunnel that was financed and filmed by NBC, in order to produce a documentary that would raise American awareness of the trials that East Berliners faced under oppressive rule. With the Cuban crisis looming in the Caribbean, the last thing the Kennedy Administration needed was another crisis in Europe. As a result, the media was pressured to hold off, or even to squelch this documentary and others like it.