Some folk, if they knew themselves better, would not brag as loudly as they now do.
Please Pray For My Family
My family and I could use your prayers at this time. My grandmother has been in declining health for the past few years, but recently her decline seem to have been speeding up. She is in her mid 90s, so this doesn't come as any surprise, but it is still a difficult time for our family. Please be in prayer for us.
Because of this, things may be sporadic around here for the time being. I hope to be as consistent as I can be, but I expect to be in and out a lot more for the foreseeable near future. Thanks for understanding.
And, so you know who you are praying for, here is a picture of my grandmother holding my youngest daughter. Mercy is a newborn here, and she's now three. My grandmother loved being able to hold her just days after she was born.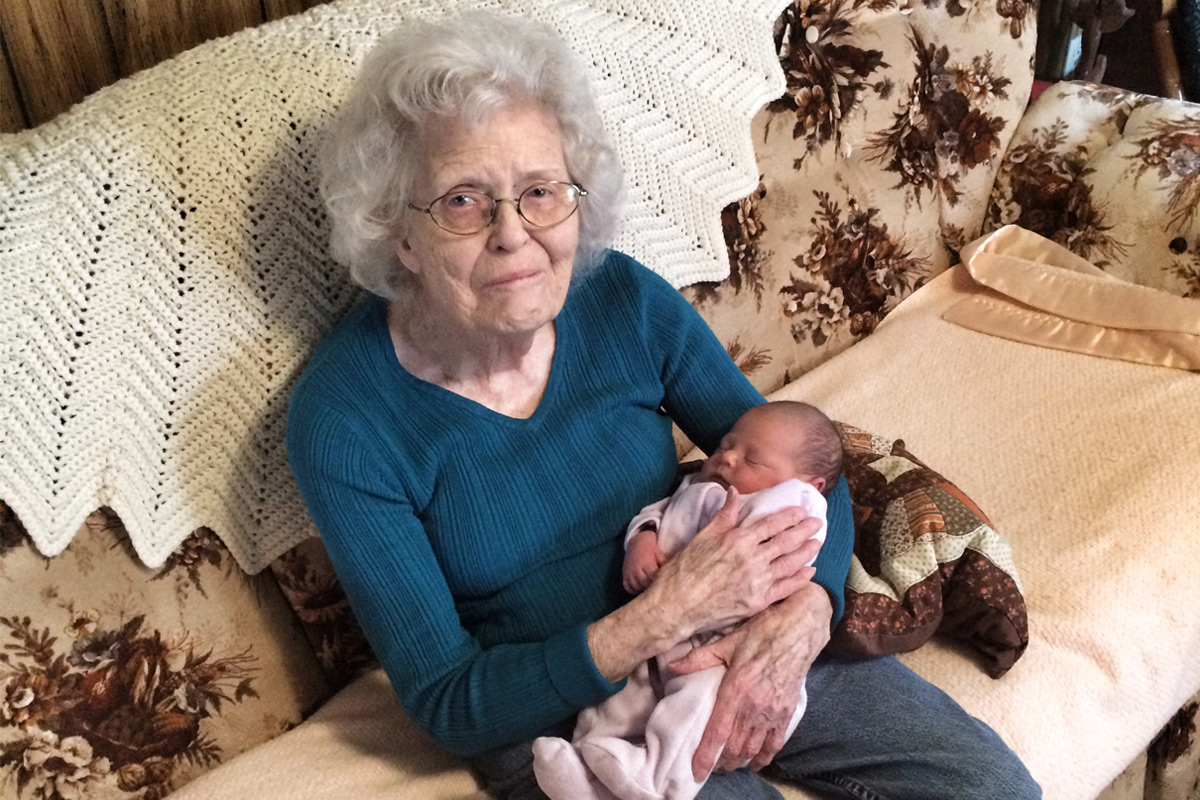 Your Monday Dose Of Inspiration
On this day in history: In 1541, the city of Santiago, Chile was founded. In 1809, Abraham Lincoln was born, and 1892, his birthday was declared to be a national holiday. And in 1880, the National Croquet League was organized in Philadelphia, PA.

---
Today Is Nation Clean Out Your Computer Day!
Ditch those files and programs you don't need anymore!
---
Renaissance Artist Or Coffee? – Take the quiz and see if you know the difference.
The World's First Roller Coasters – If roller coasters scare you now, think about what they were like in the beginning of their history!
The 5 Best Pocket Fountain Pens To Carry Every Day – I love fountain pens, especially vintage pens from the 30s and 40s, and especially especially Parker Vacumatics. But I don't carry one daily. I carry a Fisher Space Pen daily. However, I could easily fit any of these into my daily carry without any problems, especially that Kaweco Sport, and especially in brass!
How Much Sleep Do You Really Need? – Have you ever wondered this? I have. And I have been told that we actually need less than we think we do. But just how much is the right amount? This is an interesting video, in spite of the evolutionary overtones it carries.
Hiding God's Word In Our Hearts
This week, we begin the third strophe of Psalm 119, Gimel. The psalmist begins this stanza with an accurate view of his place in relation to the God he serves, and the results that come along with it. You can see it for yourself in Psalm 119:17-20: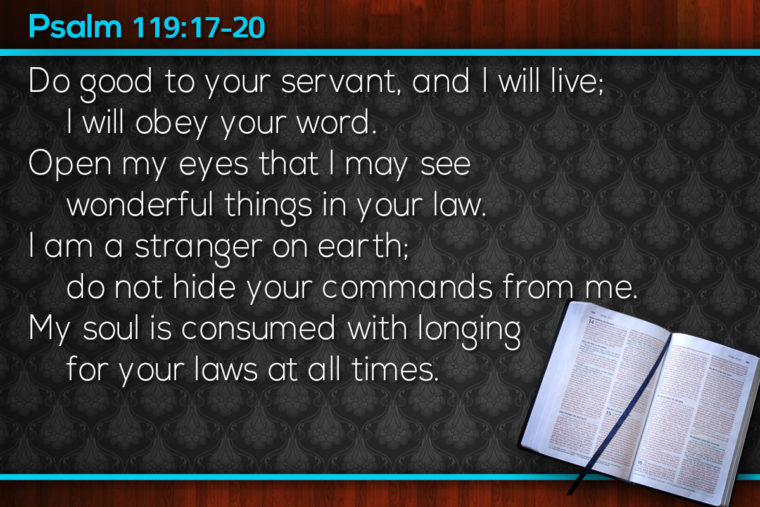 The psalmist begins by stating that it is only with God's help and actions that we can exist. In verse 17, he asks God to do good to him, and in verse 18, he asks that God open his eyes. In both of these requests, the author knows that God is the only one who can provide the answers needed: life, in accordance to God's Word, and sight, in order to see the wonderful things in God's Word.
But living in accordance to God's Word leads to the world hating us. And in verse 19, the psalmist sees some of this. This is the first of four consequences that we will see over the next couple of stanzas. In all actuality, these are not consequences as much as they are trials that come because of our commitment to God.
Jesus told us that the world would hate his disciples in John 15:18-25, and the writer of this psalm experienced that same thing. Righteousness for the sake of God will always cause the world to hate us.
This idea of being a stranger on the earth can be seen in a couple of different ways, both equally true. First of all, this is not our home to begin with, we are just passing through, and our lives are short. There is limited time available to us, and we should devote what we can to reading and studying God's Word and spreading the Good News that is found there to others.
It is impossible to succeed without suffering. If you are successful and have not suffered, someone has suffered for you, and if you are suffering without succeeding, perhaps someone may succeed after you. But there is not success without suffering.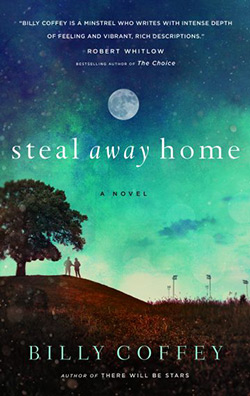 I am not a big sports fan, and I never really have been. But if there were one sport I can get into, it would be baseball. Of everything out there, I enjoy it the most. And, stories about baseball are among my favorites. So when I was given the opportunity to read and review Steal Away Home by Billy Coffey, I jumped on it.
I was surprised at first, because I halfway expected this story to take place during the Depression, or maybe after Word War 2. But Coffey placed it in the most unexpected of times. The story is split between 1990 and 2001. The main character is a man named Owen Cross, who is a catcher in the minor leagues. In 1990, he was a senior about to graduate from high school. In 2001, he gets his shot at the major leagues.
And the story is about both of those times. The majority of it takes place in the spring and early summer of that senior year, but it all comes as reminiscent memories while sitting in the dugout of Yankee Stadium one night in 2001.
The story is typical Billy Coffey, engaging and captivating, told in such a way that you can't really put the book down. It's a story of love and betrayal, of grief and forgiveness, of a girl and a game, and how salvation comes in the most unexpected ways.
I thoroughly enjoyed reading Steal Away Home, just as I have with every Billy Coffey novel I have read. I think you'll like it too. I highly recommend that you grab a copy and read it.
Ratings & Details For Steal Away Home:
Genre/Style: Christian Fiction
Story/Plot: 10 of 10 stars
Spiritual Content: 10 of 10 stars
Readability/Flow: 10 of 10 stars
Cover: 10 of 10 stars
Overall Rating: 10 of 10 stars
Question: Have you ever read anything by Billy Coffey? If so, how did you like it? You can leave a comment by clicking here.
If you are interested in reading
Steal Away Home
by Billy Coffey, you can purchase it at Amazon.com in
print
or for
Kindle
.
I received this book free from Cross Focused Media as part of their Cross Focused Reviews blogger review program. I was not required to write a positive review. The opinions I have expressed are my own.
Your Monday Dose Of Inspiration
On this day in history: In 1870, the first motion picture to be shown to a theater audience takes place in Philadelphia. In 1897, the first showing of a motion picture in Hawaii occurs at the Hawaiian Opera House. And in 1953, the Walt Disney film, Peter Pan, opened at the Roxy Theater in New York City.

---
Today Is World Nutella Day!
My kids love this stuff!
---
How Major Religions View Coffee – This was very interesting and a bit amusing as well.
Some Turkeys, And A Dead Cat – Domestic turkeys are pretty dumb. I don't think I realized wild turkeys were just as clueless.
The Cancer Of The Great Lakes – The spread of the invasive zebra mussel is impacting a large portion of the lakes and waterways of North America. It becoming a major threat to native aquatic wildlife. This is an informational article about its spread.
What If The Arab Empire Reunited Today? – I found this to be incredibly interesting and informative.