God uses men who are weak and feeble enough to lean on him.
One of the most important things I have learned over the years is to identify and establish healthy priorities. As critical as this is, it is surprising how few people actually do this, especially those who are in positions of leadership. Determining what these priorities are is an absolute must for each of us.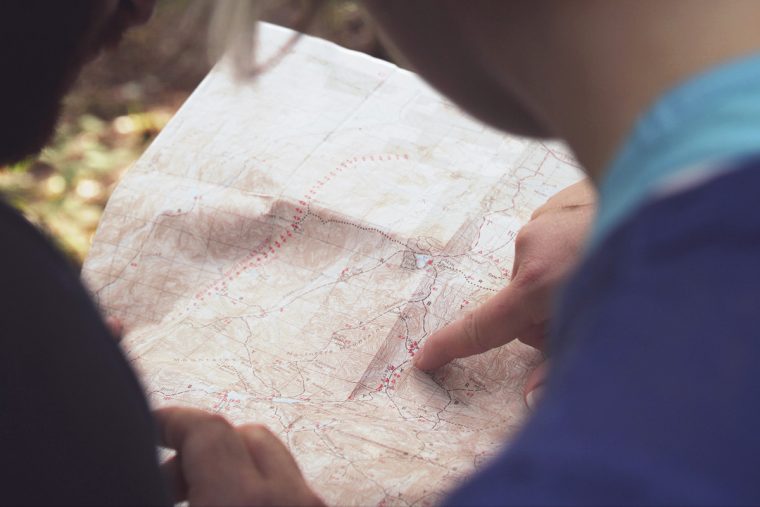 While I was in Bible college, I learned a basic principle for priorities: My top priority is my relationship with God. That is followed by my relationship with my wife. My third priority is my relationships with my children, and finally, my ministry and work.
That gives a good basic overview, and is very solid advice. But it still remains somewhat general in nature. In each of these areas, how do I determine what I should be focusing on? How do I set my priorities in each area? How do I establish what that looks like?
I think there are a few questions that we can ask ourselves that can help determine where our focus should be. These are simple questions, but are worth taking some time to consider.
Your Monday Dose Of Inspiration
On this day in history: In 1846, the U.S. annexed New Mexico. In 1865, a patent for liquid soap was issued to William Sheppard. In 1938, Fred Astaire and Ginger Rogers grace the cover of Life magazine. And in 1984, the last Volkswagen Rabbit rolled off the assembly line in New Stanton, PA.

How Bad TV Characters Are At Realistically Drinking Coffee – This has bothered me for along time. And finally, someone else is bothered too, and they made a video. Mental Floss discusses it in this article.
5 Stylish Ways To Roll Shirt Sleeves – This kind of seems like a no-brainer kind of thing. How to roll shirt sleeves? Come on! But after I read this, I began to notice just how sloppily a lot of men actually roll their sleeves. His might be needed. And here is an infographic to help display it all.
Why Tim Challies Doesn't Use An Ad Blocker – I found this very interesting. I don't use an ad blocker either, simply because I fear it may block out more than it needs to sometimes. Tim's thoughts here are very encouraging.
Hexaflexagons – This absolutely blew my mind!
Hiding God's Word In Our Hearts
This passages wraps up the paragraph that Peter has spent describing the glorious Christ and his work of redemption on the cross. In this last portion of that description, he ties that redemption right into the individual lives of his readers.
Take a look at this passage in 1 Peter 1:20-21.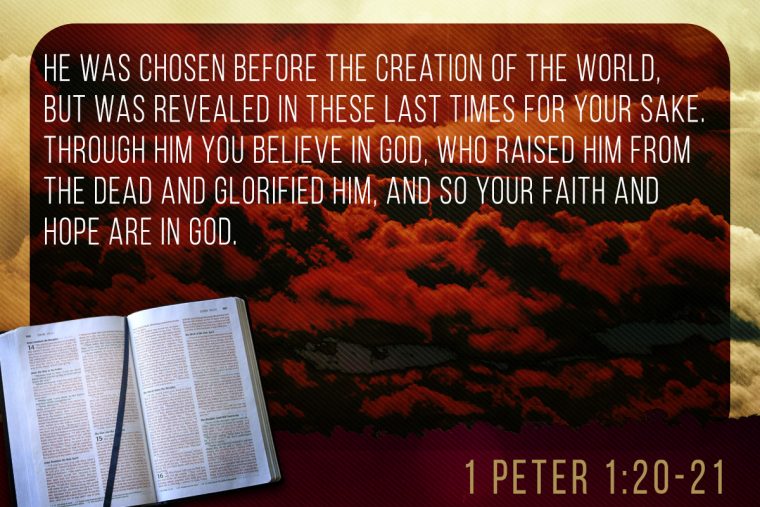 God's plan, from the very beginning of it all, was to offer himself on our behalf. This plan was formulated before the creation of the world (Revelation 13:8). Before he created everything in Genesis 1, and before mankind sinned in Genesis 3, God knew what it would take to bring mankind back to himself.
Peter reminds his readers of that fact, that the Christ, the Messiah, the one who was sacrificed for you and I is the same one that was there at Creation, and was in on the plan all along.
Peter seems almost to emphasize the final portion of verse 20, "for your sake." What we have seen, what we know to be true, the prophets and patriarch longed to see, and searched the Scriptures hoping to find. We, now living after the fact, can see much more of the whole picture, and know God's plan of redemption more fully.
The greatest good suffering can do for me is to increase my capacity for God.
Praying can be hard. We often tend to neglect this important part of our spiritual lives, sometimes without even meaning to do so. But it is a critical aspect of our connection with God, and we need that line of communication like no other.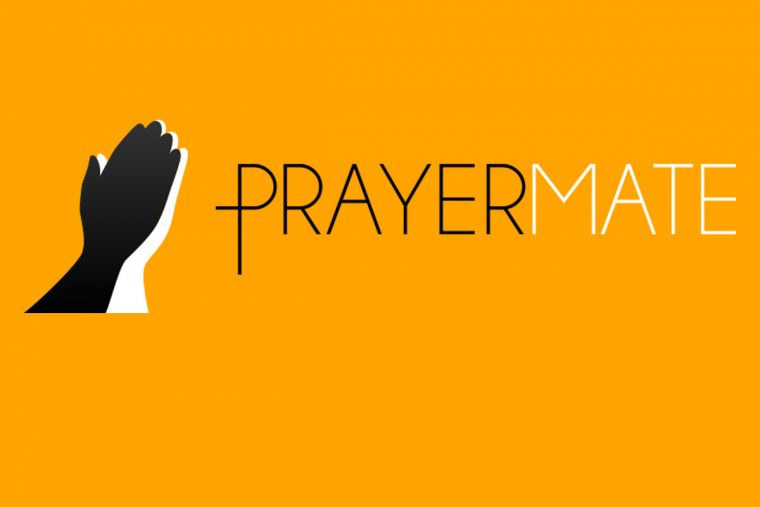 I have always struggled with maintaining a consistent prayer time in my daily life. That may sound a bit weird coming from a minister, of all people. Reading the Bible has always been an easy discipline, as has journaling, and many others. But prayer has been harder.
I have tried all of the different methods: a prayer journal, writing my prayers out, making lists. I've tried to develop this discipline on my own, and with prayer partners. I have purchased several different "systems," and developed my own.
Nothing really worked for me.
I've studied the concept of having a great prayer life, and the need to have a quiet place with sufficient time and no distractions. I have opened up time in my schedule, my home, and my life. All to little avail.
I get distracted easily. I can be praying, and the next thing I know, I'm imagining myself to be a fighter pilot, or hiking El Capitan, or playing with the bookmark in my Bible.
Frankly, it's kind of frustrating.
Enter PrayerMate. Goofy name. Great app.
Someone out in the digital world apparently had the same problem I do. Somewhere, I ran across a blogger who had as much frustration about being as consistent in prayer as I do, and they mentioned an app for the mobile phone, and iPhone in my case, that had helped them. I don't remember who it was, but I am eternally grateful.
I downloaded this app, and it has been the best thing I have ever done for my prayer life. This app is completely customizable, and I can set it up to fit my needs almost perfectly. It creates my prayer lists, as many as I need, and allows me to create specific prayer cards for each item in that list.
For example, I have lists for the following subjects and topics: biblical prayers, wisdom, personal godliness and growth, my wife, each of my kids, my ministry and church, my friends, other ministries and missions, evangelism, our nation, and many more. Some of these lists hold dozens of prayer cards.
I can set the parameters for each list. For example, I have seven different prayer cards in my personal godliness list. PrayerMate cycles through these cards, randomly, until all seven have been prayed for, and then starts over again. This way, I can ask God to grow me in these different areas each week, but not always in the same order.
Another example would be my church family. There are several dozen cards in that list. PrayerMate is scheduled to select three cards each day, until all of them have been covered. And then the list begins again. I am able to pray for my entire church, family by family, and no one gets left out.
The scheduling in PrayerMate is incredible. I can choose to be reminded of as many or as few prayer needs on each list as needed, and build my prayer lists accordingly. And, with the reminder feature, I never forget to pray over these lists. My phone is always with me, and as a result, I can prayer while walking, or driving, and more. It's been an incredible blessing for me.
And the best thing about this powerful little tool? It's free, for iPhone and Android. Perfect!
The only drawback to it is that it does take some time to get things set up like I wanted them. I had to add and delete a few things until I figured out where everything fit. And even that ability is pretty simple to accomplish.
I highly recommend that you give this app a shot, especially if you struggle with a consistent prayer life. PrayerMate is a great tool that can help your prayer life become much more disciplined than it has ever been before.
You need to try this for yourself.
Question: What do you do to help build your prayer life into a solid spiritual discipline? You can leave a comment by clicking here.
Your Monday Dose Of Inspiration
On this day in history: In 1848, the dental chair was patented by M. Waldo Hanchett. In 1877, Thomas Edison wrote to the president of the Telegraph Company in Pittsburgh, PA. The letter stated that the word, "hello" would be a more appropriate greeting than "ahoy" when answering the telephone. In 1911, the product Crisco was introduced by Procter & Gamble Company. And in 1969, the Woodstock festival opened in Bethel, New York, and created a cultural pivot point in American history.

Java Maestro's Pour Over Brewer Review And Guide – I do not have one of these pour overs. I ave several different varieties, but not this one. However, after reading this, I may have to look into one for myself. You might want to as well, so here is a link to it on Amazon.
What Would We Do If The T-Rex Came Back? – Fake Science is probably one of my favorite places on the Internet. And this one is excellent!
8 Mysterious People Without A Past – It would be a horrible thing to not know who you are, or where you came from. But that does happen occasionally. Mental Floss has listed eight of the more well-known cases of people without a past.
Wingdings – Have you ever wondered what the point is to the Wingding font family? The history behind this is actually very interesting.