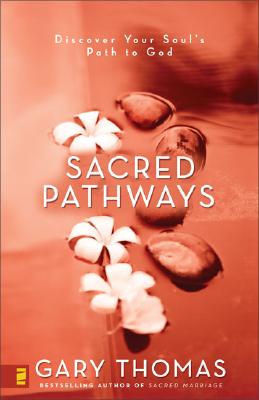 To be honest, I was a little skeptical when a good friend recommended that I read Sacred Pathways, by Gary Thomas. I agreed to give it a look, purchased the book and left it on the shelf for the next couple of years until I could "get around to reading it."
I've always been told, never judge a book by its cover, or in this case, by its title; but that's exactly what I did. Sacred Pathways… It sounded meditative, mystical, and slightly New Age-ish.
However, when I finally "got around to reading it," I was pleasantly surprised. I'd never read anything by Gary Thomas before, and found him engaging and easy to follow. Sacred Pathways captured and held my interest right from the start.
In Sacred Pathways, Gary Thomas identifies and examines nine different spiritual paths. What exactly does this mean? Each of us have different approaches as to how we relate easiest with God. Each of us grow spiritually in different ways. Gary Thomas leads us through nine major categories, showing us the strengths and weakness of each one. And after each of them, he offers a few questions, to help identify if that particular pathway is one of the reader's stronger characteristics.
I found this rating system especially helpful, and quite surprising. I thought I knew how I best deepened my spiritual relationship with God, but found out that I may have strengths in areas that have remained unrealized in my life. More on that and how I grow later.
Here are the nine pathways, with a quick synopsis of each one:
Naturalists: Loving God Out of Doors
The naturalist sounds like exactly what it is: someone who prefers to leave everything behind and head into the great outdoors to connect with God. A walk beside the river or through the woods is more worshipful than reading a book or listening to a sermon. Naturalists are moved by God's creation. A view from a mountaintop connects them closer to God than a classical cathedral ever will. Naturalists seek God by surrounding themselves with all that he has made.
Sensates: Loving God With The Senses
Sensates love to be lost in the awe and wonder of God. Sights, sounds, and scents add to the worship experience. A sensate desires to connect with God through the senses, and the more overwhelming, the better. Experiencing God though the five senses is a most effective inroad into the heart of the sensate.
Traditionalists: Loving God Through Ritual And Symbol
Traditionalists are fed by the classic and historic dimensions of the faith: ritual, liturgy, sacraments, and symbols. The traditionalist have a desire for worship to have a ritual and structure; without these, he feels disconnected from God. Traditionalists tend to be very disciplined and organized in their faith.
Ascetics: Loving God in Solitude And Simplicity
The ascetic would love nothing more than to spend every waking hour alone in prayer. The ascetic needs none of the symbols and structure of faith; anything along those lines would simply be a distraction. Ascetics tend to isolate themselves from others and any organized structure. Frequently seen as introspective, leaving everything behind in his quest for God is no trouble for the ascetic.
Activist: Loving God Through Confrontation
Activists love to set things right, even if that means confronting someone or something head on. The activist is quick to jump into a cause, or several of them, if it helps wage the war against injustice. The activist feels closest to God when she is standing against evil and calling sinners to repentance.
Caregivers: Loving God By Loving Others
The caregiver is a servant. Serving another is the quickest way for this person to connect to God. The caregiver sees Christ in those who are needy, poor and downtrodden. The caregiver's faith is built by serving others. Caregivers often display the deepest compassion, seeing the needs of others and identifying practical ways to meet those needs.
Enthusiasts: Loving God With Mystery And Celebration
The enthusiast loves the excitement and mystery of worship. Joyful celebration is crucial to the growing faith of this type of person. God moves by moving their hearts. If they don't feel moved during their worship, they wonder if they've experienced God at all. With some similarities to the sensate, the enthusiast doesn't want to just know concepts, he wants to experience them to the fullest.
Contemplatives: Loving God Through Adoration
A contemplative would refer to God as their lover. The idea of a loving Father or Bridegroom depicts their relationship with God very accurately. The person who is a contemplative seeks to love God with his entire being: his heart, soul, mind and strength. The contemplative is a very humble person, seeking nothing else than to sit at the feet of the Savior.
Intellectuals: Loving God With The Mind
Intellectuals live in the world of concepts. Studying and learning are a prime way that this type of person experiences God to the fullest. Understanding doctrine and other key points about Christianity and the faith is the best type of connection for this person. The intellectual gets fed when they learn or grasp something new about God or their faith.
There they are, the nine pathways to God that Gary Thomas identified. Is this list exhaustive? Probably not. It is fairly descriptive of several general approaches to complete worship? I think it is.
There is a lot to be learned from Sacred Pathways. As I read, my mind was opened to possibilities for me to experience God in ways that I've never even thought of before. And, as I mentioned above, I came to realize that I may have strengths in areas that I never guessed I had, or even guessed could have in my life.
Here are my top four categories, as scored in the self-evaluations supplied at the end of each chapter.
Naturalist
I scored 27 out of a possible 30 here. This is no surprise to me. I love the outdoors. In fact, some of my favorite moments have been when I escaped to the river, or a secluded campsite, with nothing more than my Bible and journal, and maybe a book or two. I love to hike and float. I figured that I would display strong naturalist tendencies.
Intellectual
My score here was 22 out of 30. Again, no real surprise. I love to read and study. When I learn something new about God, it reinforces my connection to him in the realm of my faith.
Ascetic
This one scored a 21 out of 30. Once again, I wasn't surprised by this characteristic. I love to get away and enjoy solitude. This goes hand in hand with my naturalist leaning.
Enthusiast
Here, I scored 21 out of 30, tieing with my ascetic score. This one caught me rather off-guard. I've always been someone who views faith through the lens of reason, and not as much emotion. Here I discovered that I may be more experiential in my connection with God than I have ever realized. I've always been excited, almost to the point of tears, when I see God moving dramatically. I just never have identified that as one of my strengths. And so I have a challenge: to learn to recognize and improve my growth through this pathway. Being aware of it may be the first step in allowing its potential life-change to happen. And I'm excited to see just how God might use this tendency, now that I'm more aware of it.
And, for your information, I scored lowest as an activist. No surprise there. I've always hated confrontation, even when it's beneficial…
All in all, I really gained some incredible insights from reading Sacred Pathways. I definitely would recommend this as material for anyone trying to identify their best spiritual growth opportunities. If you wonder why you don't grow as much as you feel you should, it could be because you aren't working within your strongest strengths. Give this book a read, and you might be as surprised as I was.
If you are interested in reading Sacred Pathways, by Gary Thomas, you can purchase it at Amazon.com.
Disclosure of Material Connection:
Some of the links in the post above are "affiliate links." This means if you click on the link and purchase the item, I will receive an affiliate commission. Regardless, I only recommend products or services I use personally and believe will add value to my readers. I am disclosing this in accordance with the Federal Trade Commission's 16 CFR, Part 255: "Guides Concerning the Use of Endorsements and Testimonials in Advertising."