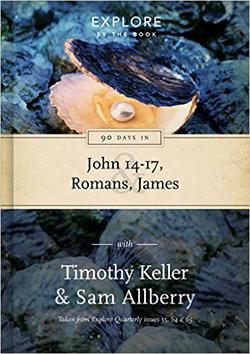 I am always looking for good devotional material that will challenge me to grow. It seems like much of the material on the market is pretty basic, and doesn't go very deep. When I first discovered The Good Book Company, and their For You series of commentaries, I was excited and impressed, because this was material that was not simple and underwhelming, and also not dry and academic either. And what made it even better, is that Timothy Keller was involved, who is one of my favorite authors.
So when a new devotional Bible study came out with his name on it, I was excited to dig into it. 90 Days in John 14-17, Romans, James is an excellent study, that guides you and encourages you to dig deeper into the Scriptures as you study.
The format is simple. The day's passage of Scripture is laid out, some material is presented to read and think about, often with some though-provoking questions to get your mind working. There are also sections that suggest topics and thoughts for your prayers, and for application to your daily life. Finally, before the next day's entry begins, there is a space you can journal your thoughts and prayers, and any questions you might have.
Taken form the quarterly publication, Explore, these lessons are not highly academic. They are devotional in nature, and are to be used for daily study of the Scriptures for personal growth. You won't find a lot of explanation and information about the text. And this is on purpose. If you want to read about these books of the Bible, grab a commentary. But this volume is designed to get you into these biblical books themselves, and feast upon the words of God.
And to that end, they do a great job.
I highly recommend you grab a copy of 90 Days in John 14-17, Romans, James, or one of the other volumes in this series. You'll be glad you did!
Ratings & Details For 90 Days in John 14-17, Romans, James:
Genre/Style: Devotional/Bible Study
Purpose/Premise: 10 of 10 stars
Spiritual Content: 8 of 10 stars
Readability/Flow: 10 of 10 stars
Cover: 8 of 10 stars
Overall Rating: 9 of 10 stars
Question: What resources have you found to be helpful in your daily Bible study and devotions? How have those resources helped you? You can leave a comment by clicking here.
If you are interested in reading
90 Days in John 14-17, Romans, James
by Timothy Keller and Sam Allberry, you can purchase it at Amazon.com in
print
or for
Kindle
.
I received this book free from Cross Focused Media as part of their Cross Focused Reviews blogger review program. I was not required to write a positive review. The opinions I have expressed are my own.