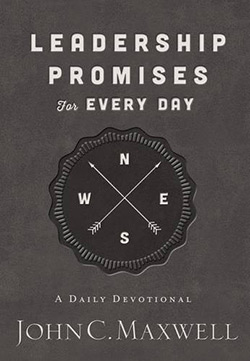 John Maxwell has released a new daily devotional for leaders, called Leadership Promises For Every Day. While a lot of the daily entries are from the Maxwell Leadership Bible, among other resources Maxwell has written, calling this a devotional is a bit of a stretch. It's more of a daily leadership thought.
That said, it's still a pretty good resource. I have had this on my desk for several weeks now, and have utilized it almost every day, reading the thought for the day. It always gives some concise bit of leadership wisdom for me to consider, and usually summarizes a more detailed and complex thought from one of Maxwell's books.
The drawback to this is the fact that I have read most of Maxwell's other works, so this is just restating what I have already read, most of the time. The reminder is great, but I would prefer something new and fresh sometimes too.
The book is bound in a nice leather-like cover, and the pages are very well designed. This would be a great gift for a student of leadership, whether in ministry or in the workplace. The daily thoughts are brief and to the point, and the size is sufficient for a desk or a drawer, or even a backpack or a bag.
While not the best resource out there for daily leadership material, this is still a handy book to have, and I have enjoyed using it. I look forward to whatever new nuggets of leadership wisdom it may bring.
Ratings & Details For Leadership Promises For Every Day:
Genre/Style: Devotional/Leadership
Purpose/Premise: 7 of 10 stars
Spiritual Content: 8 of 10 stars
Readability/Flow: 8 of 10 stars
Cover: 10 of 10 stars
Overall Rating: 7 of 10 stars

Question: Have you read any of John Maxwell's books? Which were your favorites? You can leave a comment by clicking here.
If you are interested in reading
Leadership Promises For Every Day
by John C. Maxwell, you can purchase it at
Amazon.com
.
I received this book free from Harper Collins Christian Publishing as part of their BookLook Bloggers review program. I was not required to write a positive review. The opinions I have expressed are my own.