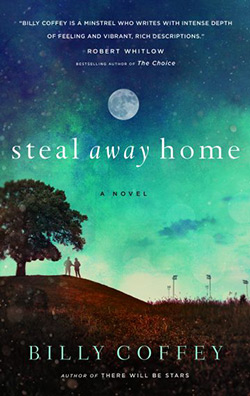 I am not a big sports fan, and I never really have been. But if there were one sport I can get into, it would be baseball. Of everything out there, I enjoy it the most. And, stories about baseball are among my favorites. So when I was given the opportunity to read and review Steal Away Home by Billy Coffey, I jumped on it.
I was surprised at first, because I halfway expected this story to take place during the Depression, or maybe after Word War 2. But Coffey placed it in the most unexpected of times. The story is split between 1990 and 2001. The main character is a man named Owen Cross, who is a catcher in the minor leagues. In 1990, he was a senior about to graduate from high school. In 2001, he gets his shot at the major leagues.
And the story is about both of those times. The majority of it takes place in the spring and early summer of that senior year, but it all comes as reminiscent memories while sitting in the dugout of Yankee Stadium one night in 2001.
The story is typical Billy Coffey, engaging and captivating, told in such a way that you can't really put the book down. It's a story of love and betrayal, of grief and forgiveness, of a girl and a game, and how salvation comes in the most unexpected ways.
I thoroughly enjoyed reading Steal Away Home, just as I have with every Billy Coffey novel I have read. I think you'll like it too. I highly recommend that you grab a copy and read it.
Ratings & Details For Steal Away Home:
Genre/Style: Christian Fiction
Story/Plot: 10 of 10 stars
Spiritual Content: 10 of 10 stars
Readability/Flow: 10 of 10 stars
Cover: 10 of 10 stars
Overall Rating: 10 of 10 stars
Question: Have you ever read anything by Billy Coffey? If so, how did you like it? You can leave a comment by clicking here.
If you are interested in reading
Steal Away Home
by Billy Coffey, you can purchase it at Amazon.com in
print
or for
Kindle
.
I received this book free from Cross Focused Media as part of their Cross Focused Reviews blogger review program. I was not required to write a positive review. The opinions I have expressed are my own.