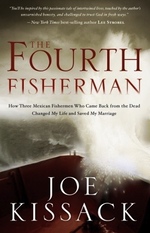 It's been a while since I read something so inspirational that it brought tears to my eyes. But that's exactly what happened as I was finishing The Fourth Fisherman, by Joe Kissack.
In 2006, something happened that went largely unnoticed by the American media. Three Mexican fishermen were rescued near the coast of Australia, after being adrift at sea for over nine months. Embarking on a three day fishing trip off the western coast of Mexico, five men had no idea what was in store for them. Three of them made it. Two did not.
Unknown to these fishermen, TV executive Joe Kissack was falling deeper and deeper into a morass of his own making: work problems, alcohol, drugs, marriage and family struggles all contributing.
In The Fourth Fisherman, Kissack interweaves these two stories, telling each on it's own, until the point where two world's collide.
Written in a back-and-forth fashion, jumping from one narrative to the other for much of the book, The Fourth Fisherman isn't so much about these two stories as it is about a third story: God's story. As Kissack discovers that fact, everything starts to click. And the results are simply miraculous.
The things that happen, and they way that they unfold are truly inspirational. Once I started this book, I couldn't put it down. I read most of it in one evening, finishing it the next day.
And I loved every bit of it.
I highly recommend that you pick up a copy and read it today. You'll be glad that you did.
In your life, where do you most need to see God's hand moving right now? You can leave your thoughts in the comments section below.
If you are interested in reading The Fourth Fisherman, by Joe Kissack, you can purchase it at Amazon.com.
Disclosure of Material Connection:
I received this book free from Multnomah Books as part of their Blogger Review Program. I was not required to write a positive review. The opinions I have expressed are my own. Also, some of the links in the post above are "affiliate links". This means if you click on the link and purchase the item, I will receive an affiliate commission. Regardless, I only recommend products or services I use personally and believe will add value to my readers. I am disclosing this in accordance with the Federal Trade Commission's 16 CFR, Part 255: "Guides Concerning the Use of Endorsements and Testimonials in Advertising."