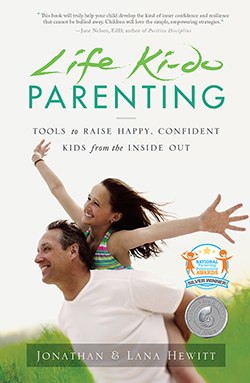 Not too long ago, I received a copy of Life Ki-do Parenting by Jonathan and Lana Hewitt from the Time with Tracy blog. It contains an interesting approach to parenting. Much of what he says makes sense, and seems very practical. While not written from a Christian point of view, Life Ki-do Parenting conveys a very positive, others-centric strategy to parenting that is crucial to raising our children. Here's a brief synopsis of the book.
My first question was what the title meant. In the middle of the first chapter, Hewitt explains it: ki means "inner strength or spirit," and do means "the way." So, Life Ki-do means "the way of living from your own inner strength and spirit and honoring the same in others." Hewitt teaches martial arts, which provides a little more insight as to where his teachings and methods come from. This background lends itself to strong discipline as well.
While good, I think his approach stops short. In order to effectively communicate these principles, we cannot approach this on our own strength; we need God as the foundation.
That said, the Hewitts give some solid principles that go a long way to establishing some good parenting habits.