Archive - Resources
RSS Feed
2012 has one month left in it. My prayer is that I make the most of it, as well as you.
We've had a busy year. We moved halfway across the country and started a new ministry. I've developed and launched a new website, devoted to helping dads become the best dads that they can be. In the midst of all this, I've tried to step up my own dad abilities, as well as be a better husband. Oh, and we're expecting our sixth child, a son right around the turn of the year. Like I said, it has been a busy year for us.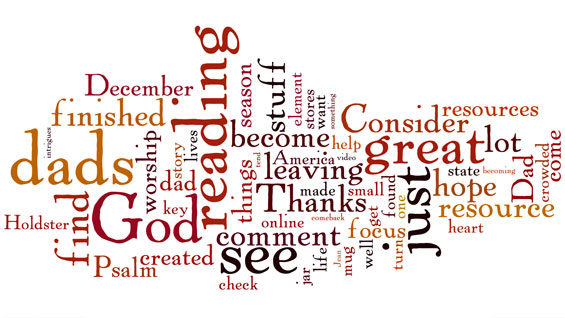 In spite of all the busyness, we've made sure to take the time to stay close as a family. We just started our season full of Christmas traditions, with our first family Advent night of the year. I've evaluated my reading and writing for the past few months, and determined that this has been my most productive year in those areas. With the launch of DeliberateDads, I know that trend will continue.
November brought several birthdays, along with the holidays. So there was plenty to write about. In case you missed them, here are my top seven posts for the month of November:
My Foundations of Youth Ministry series dealing with purpose, mission and vision continues to make the list. Three of the top seven posts are from this series. That continually reinforces just how important it is to develop these for any ministry or organization.
With a couple of reviews, one book review and the other a product review, this list contains a lot of material that has been on my blog for a while. It also points me in the direction for developing my plans for the coming year, as I see what more and more people are reading.
My favorite post written in November was one I wrote about fearless living, inspired by a Father/Son Retreat I went to with one of my boys.
Have a great month of December, and a Merry Christmas!
If you are a blogger, leave a comment with your top post for the month. If you don't blog, leave a comment with a favorite post or blog that you read this month.