Archive - Resources
RSS Feed
Summer seems to be officially over, now that it is September.
And with the end of the busy summer season, most kids are back in school. We homeschool, so our kids are still running around the house.
But, for the most part, my schedule will begin to settle down a bit. I hope…
I have a lot of reading to catch up on, and a lot of writing as well. I've got a couple of projects in the works that I hope will become very fruitful as ministry tools.
Speaking of tools, August was a month of focus for me as a dad. I wrote several articles in the Dad Toolbox series. I'm looking forward to more!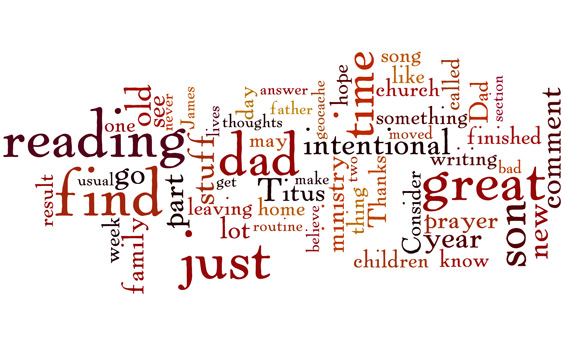 In case you missed them, here are my top seven posts for the month of August:
I was slightly amazed to see that the number one post for this month had almost six times as many views as the next one on the list! And it's been in the number one spot since May! That's pretty awesome to me.
The rest of my list is filled with posts dealing with spiritual growth or youth ministry, and the final two spots are book reviews.
One topic that didn't make the list, yet, is my new series on becoming a Dad of significance. The Dad Toolbox is a series I started at the end of July, and I have some incredible plans concerning this that I hope to share in the very near future. I see a tremendous need for fathers to step up and become great dads. While this has been an important thing to me over the last several years, in the past few weeks, it's become a burning passion. I've been devouring books, periodicals, and blogs on the subject, and find myself craving more. Not just information, but I find myself craving to become the best dad I can possibly be.
My favorite post written in July was part of that series: Being An Intentional Dad. In order to be a great dad, you have to be intentional. You have to be deliberate.
I'm looking forward to see how September unfolds and what's in store!
If you are a blogger, leave a comment with your top post for the month. If you don't blog, leave a comment with a favorite post or blog that you read this month.