Having the Heart of a Champion can be difficult sometimes. But as Paul shows us in 2 Corinthians, there are some key things that we can incorporate into our lives in order to succeed in this.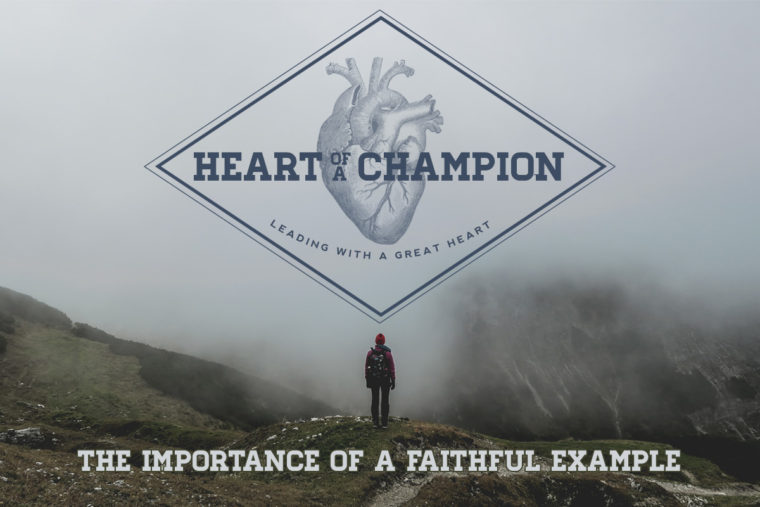 One of those characteristics that we can develop to help build the Heart of a Champion is the ability to stand strong as a faithful example. Look at how Paul states this in 2 Corinthians 6:3-10:
Behold, now is "the acceptable time," behold, now is "the day of salvation"— giving no cause for offense in anything, so that the ministry will not be discredited, but in everything commending ourselves as servants of God, in much endurance, in afflictions, in hardships, in distresses, in beatings, in imprisonments, in tumults, in labors, in sleeplessness, in hunger, in purity, in knowledge, in patience, in kindness, in the Holy Spirit, in genuine love, in the word of truth, in the power of God; by the weapons of righteousness for the right hand and the left, by glory and dishonor, by evil report and good report; regarded as deceivers and yet true; as unknown yet well-known, as dying yet behold, we live; as punished yet not put to death, as sorrowful yet always rejoicing, as poor yet making many rich, as having nothing yet possessing all things.
What Paul is saying here is that people are watching us. They are looking to see how we respond to the circumstances, often difficult, that we experience in life. And their response towards God is influenced by our actions. And so it is critical that we remain steadfast as a faithful example.
I don't know who said it, but I have a quote in my files that states, "The most valuable gift you can give another is a good example."
Over the weekend, a good friend, and an incredible man of God, left this life for Heaven. His example is exactly what Paul describes in this passage. No matter the circumstances, my friend lived the best he could, seeking to honor God with his life, no matter what. When he faced a seemingly impossible diagnosis, his prayer was one that he could stay strong and faithful in the face of such discouraging news.
His example is one that sparks me to be a better men, a more faithful man, in all areas of my life. He would have been the first to admit that his life wasn't perfect… far from it. But from my point of view, much of his life is worth emulating, just as Paul said, "Be imitators of me, just as I also am of Christ." (1 Corinthians 11:1).
To sum this idea up in a phrase, in many ways, yes, we are our brother's keeper. We are called to set the example, to live out our lives as faithfully as possible.
In the end, the rewards will definitely worth it.
Question: Who has been the faithful example on your life? Who are you being the faithful example for? You can leave a comment by clicking here.