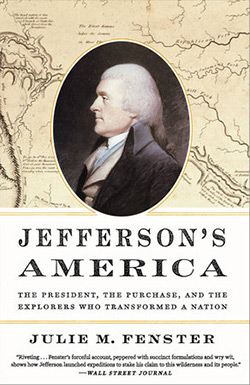 I have stated before that I am a history nut, and that I love reading history, especially early American history. One of my current projects, in fact, is reading biographies of each president, chronologically. So when I saw Jefferson's America, I was immediately intrigued and grabbed a copy.
However, I was not as impressed as I had hoped to be. While the period covered was one of perhaps the most fascinating times in American history, I found Fenster's recounting of these times and events to be somewhat dull and academic in nature. I was disappointed by that. In an age where our imagination is easily captured by the next thing, and the next thing, and the next thing, this account of early American history could have been presented in a better way as to captivate and hold the attention of most readers more completely.
The back cover states boldly that "history comes alive in this entertaining account." I could only wish this were true. This book took me longer to read than most do, simply because I found it the exact opposite of it's claims. Make no mistake, the events recounted within were accurate and detailed. They just weren't told in a way that held my attention for very long. I found it hard to finish this book.
Because it was accurate and detailed, I will recommend it, with reservation, as long as you know going into it that it is academic and dry. If you are looking for a more sensational reading of American history, this is not the book for you.
Ratings & Details For Jefferson's America:
Genre/Style: American History
Purpose/Premise: 5 of 10 stars
Spiritual Content: 1 of 10 stars
Readability/Flow: 5 of 10 stars
Cover: 6 of 10 stars
Overall Rating: 5 of 10 stars

Question: Have you read much about the expansion of America during the earliest periods of American history? If so, who are your favorite authors? You can leave a comment by clicking here.
If you are interested in reading
Jefferson's America
by Julie M. Fenster, you can purchase it at Amazon.com in
print
or for
Kindle
.
I received this book free from Waterbrook/Multnomah Media as part of their Blogging For Books blogger review program. I was not required to write a positive review. The opinions I have expressed are my own.