One of the things I'm most concerned about in my life is the legacy I am leaving for my children. This is one of the main reasons I journal fastidiously.
I want to make sure that I live my life in such a way that my top priority, in my life, my marriage, my family, my job, is always and only my God.
I crave a singleness of heart like Jeremiah speaks of in this week's passage. Take a look at Jeremiah 32:39: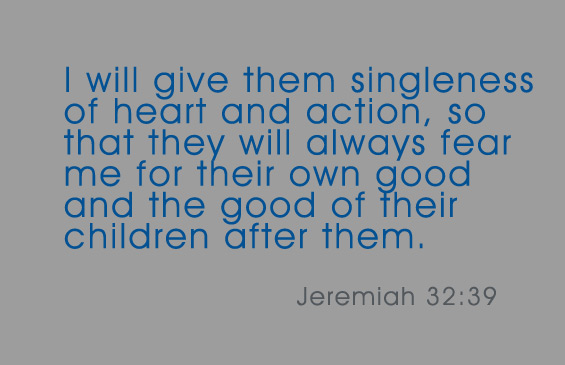 I am confident that if I live my life to the best of my ability for God and his purposes, then my children will see that and choose to follow that path as well.
I am confident that if I succeed in establishing the most dynamic ministry out there, but lose my family, then I have failed.
I am confident that if I teach and uphold biblical principles to my children, then they will be armed with the knowledge to face what the world has to offer and make the right choices.
I am confident that when God says that fearing him is for my own good, and for the good of my children, he has my best interests at heart.
I am confident. That is why I hope.
Do you think about the legacy you are leaving for your children and future generations? You can share your thoughts in the comments section below.