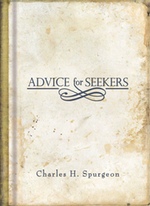 Sometimes the greatest things come in the oldest packages. Not always, but frequently.
Some of the oldest hymns contain the greatest spiritual truths. Many of the oldest cathedrals contain the greatest beauty.
And some of the oldest books contain the deepest insights into the Word of God.
Advice For Seekers is one of those that rank with the best. Written by Charles Haddon Spurgeon, and originally released in 1896, Spurgeon relates some of the most foundational spiritual realities in a way that is both deep and profound, and yet simple to understand, especially to his contemporaries.
Since the writing style has changed over the last century, and not always for the better, you may have to slow down to read Spurgeon. His words carry weight and wisdom, and they make you think.
Reprinted by Attic Books, an imprint of New Leaf Press, Advice For Seekers is an excellent volume, full of insight, and small enough to carry with you, or give to a friend.
Check out the book's trailer:
Advice For Seekers is full of several short essays, primarily focused on reaching out to those seeking Christ. Although that may look different today than it did over one hundred years ago, the truths contained in these pages is the same.
Writing about such topics as faith, salvation, sin and redemption, Spurgeon reminds his readers that we cannot do this on our own. He shows us that we need to rest in the light of Christ for our help. We must trust in the one who made us to rescue us from out of our own miry pits.
The term "seeker" may be overused today, and may have developed somewhat of a bad taste in some respects, but that doesn't change the truth: people are still seeking truthful answers about Christ, and the Bible, and salvation, and grace. Spurgeon does his best to answer these questions, providing assurance for the seeker and the disciple alike.
I really enjoyed reading Advice For Seekers, and feel like I've gained some insights that I was missing before. Several passages have been added to my file full of quotes, and I suspect certain parts of this book will even turn up in my own teaching. It's a resources I'm excited to keep on my shelf.
I'm pretty sure you will enjoy it as well. Especially if you make sure to take the time to slow down your reading and pull every morsel of truth contained in these pages.
Without including contemporary writers, who is your favorite author from times past? You can leave your thoughts in the comments section below.
If you are interested in reading Advice For Seekers, by Charles H. Spurgeon, you can purchase it at Amazon.com.
Disclosure of Material Connection:
I received this book free from New Leaf Press/Master Books as part of their Blogger Review Program. I was not required to write a positive review. The opinions I have expressed are my own. Also, some of the links in the post above are "affiliate links". This means if you click on the link and purchase the item, I will receive an affiliate commission. Regardless, I only recommend products or services I use personally and believe will add value to my readers. I am disclosing this in accordance with the Federal Trade Commission's 16 CFR, Part 255: "Guides Concerning the Use of Endorsements and Testimonials in Advertising."