Avalanches of evil begin with a single pebble of sin.
Some Changes Are Coming
You may know that I maintain several different sites and blogs, and have for some time. It has been sort of a hobby for me over the years, and an excellent outlet for my writing. And most of those other websites have sprung out of this one for the most part.
However, I have been struggling with some things that God has been addressing in my life, and one of those areas has been the idea of rest, and what it means to abide in him. I have come to the conclusion that there are several areas of my life where I display the characteristics of a workaholic, and something has to give if I am to fully obey and follow God's leading in my life.
In light of this, I have decided to begin to shut down some of those other websites, and focus my attention more specifically here on JeffRandleman.com. I will be restructuring my writing habits, and redefining what I want to do here. In some ways, I will be adding back what I branched off to start a different website project, as is the case with my role as a father and husband. Deliberate Men (formerly Deliberate Dads) will be reincorporated as a topic that will be addressed here. In fact, many of the posts that have appeared on that blog will be transferred here in the coming weeks, so keep an eye out for them.
In other cases, I will simply shut down the blog and save those posts as drafts for some day in the future, which may or may not ever come. Who knows? That's what will happen with the site I built to go along with my studies for a Master's degree. That site never took off, and has never developed the readers like JeffRandleman.com has. That is partly due to the fact that I didn't really publicize it, but also partly because I have placed the pursuit of a degree on hold as well for the immediate future.
All in all, I hope to clarify my focus, reduce my busyness, and more closely follow God's leading as he nudges me closer towards who and what he wants me to be. I hope you'll stay with me through the process.
Immediately, for the next couple of weeks, things will be pretty quiet around here, because before I make these changes permanent, I will be covering them in prayer for a few more days, just in order to be sure this is what I need to do. I'm pretty certain already, but I want to make sure I'm not simply pursuing busyness in just a different fashion. Your prayers would be appreciated during this time.
For the next couple of weeks, I plan on posting just a bare bones schedule, consisting of Saturday's quotes, Sunday's memorization of 1 Peter, and Monday's Coffee Break posts. Other topics, such as Bible study, book reviews, leadership, and spiritual growth will be on hold until mid-November. At that point, I'll add in godly fatherhood and marriage, as seen at Deliberate Men, along with the possibility of one or two other occasional topics.
Thanks for being with me on this wild ride. I'm excited about what God is doing in my life, and I can't wait to share it with you in more detail!
An idle life and a holy heart is a contradiction.
Because Coffee Always Makes Sense
If you know anything about me at all, you know that I love coffee. I love everything about it. It started off with an innocent fixation with certain second wave coffee vendors that shall remain unnamed. Soon I started seeking better coffee, and then buying it in bean form, and finally moving to various methods of brewing it, such as the Chemex or the Hario V60. I was hooked.
It wasn't long before I began to venture into the arena of home roasting, using an air popcorn popper, with excellent results. This is where I have maintained my coffee enthusiasm… Until recently.

During the summer, I decided to see if others liked the coffee I was roasting as well as I did. So I started passing around a few samples, and the feedback was great. So I began to seriously consider launching my own coffee roasting company. And the result is Coffeelogical.
As this idea took off, I wanted a place where I could write and blog about coffee specifically, and display pictures of coffee and brewing methods, and more. But I also wanted to have the freedom to talk about other things as well, things that I like to talk about while drinking coffee, like God and theology. So coffee… and theological discussions… Coffeelogical.
As I was describing this to my wife, and before I could explain the meaning of my new name, she asked, "Coffeelogical? Is that because coffee always makes sense?" Why, yes it does. So we have a double meaning to the name as well.
Hiding God's Word In Our Hearts
In the first two verses of chapter five, Peter gave a couple of contrasts to leaders and elders of the church. In this week's passage, he completes that though and gives a rationale. Take a look at this passage in 1 Peter 5:3-4.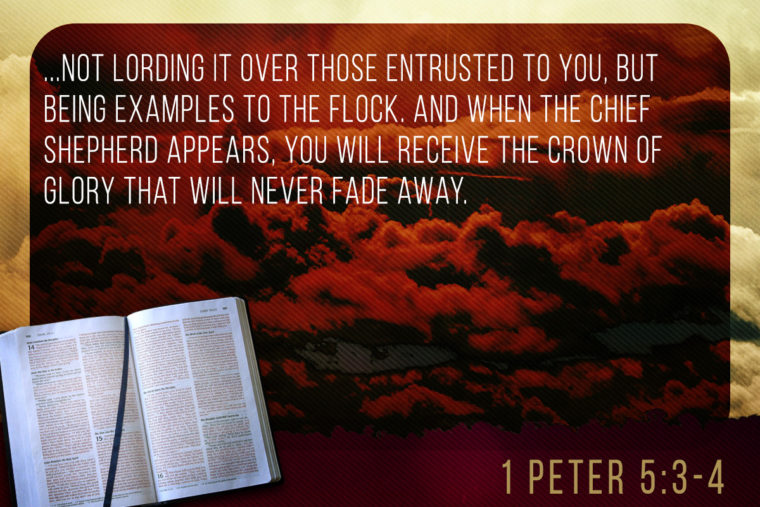 The first two contrasts were found in last week's passage, and they dealt with one's willingness to serve and not feeling pressure, and being eager to serve instead of doing it for the money. In verse three, Peter gives the third contrast.
While there are several other passage sin the New Testament that speak to leadership, and especially those who are elders or overseers in the church, Peter's instructions here are worth paying close attention to. He doesn't give a lot of information that isn't found elsewhere, but they do seem to be very encouraging insights to his readers. Remember that Peter is writing to a primarily Gentile audience, and many of his readers may have been new to church leadership. Peter's words here seem especially encouraging.
It's also worth noting again that Peter calls leaders to nothing that isn't applicable, and in fact instructed, to all Christians, whether in positions of leadership or not. Leaders just display such traits perhaps more publicly.
The third contrast that Peter gives is in verse 3. He instructs leaders in the area of authority: "Not lording it over those entrusted to you, but being examples to the flock."
I have had more trouble with myself than with any other man.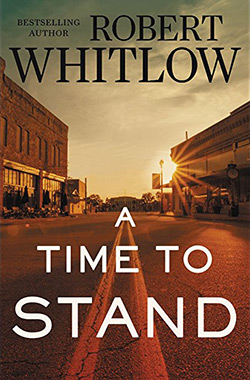 I have become a fan of Robert Whitlow. I have read and reviewed a couple of his novels in the past: A House Divided and The Confession. Both of them were excellent books, and this newest one is no different. In fact, A Time To Stand may be the best yet.
Whitlow has woven a tale of suspense, filled with very current cultural tensions, such as racism and the authority of law enforcement agencies. Set in the deep South, A Time To Stand tells the story of a potentially divided community in the aftermath of a shooting. Set as a legal thriller, Whitlow tells the story of a young black lawyer who finds herself confronted with the seemingly conflicting realities of justice, race, grace and love. How she resolves this, and helps her community do the same, is a page-turner that you can't put down.
Even though this is a work of fiction, the topics that it addresses are topics that face us all today: How do we offer and extend grace and forgiveness into an emotionally charged culture that seems bent upon self-destruction? How can God work into and through our lives in such a situation?
Whitlow gives some deep and insightful thoughts into this, and helps show how God desires love and reconciliation.
I highly recommend the spell-binding story telling of Robert Whitlow, and A Time To Stand is an excellent place to begin.