In the first half of this second strophe of Psalm 119, we saw the psalmist's desire to study Scripture, and the joy it brings. In this week's passage, we can see four practical ways to put this into practice. Take a look at Psalm 119:13-16: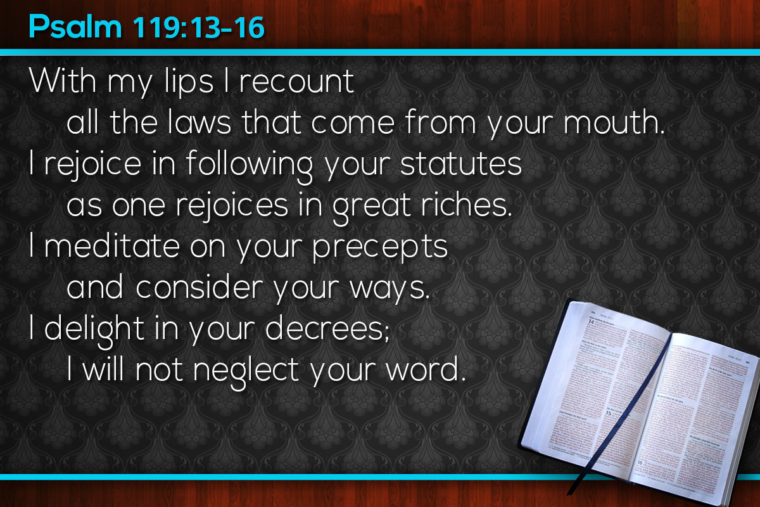 Studying Scripture is a key aspect of developing a vibrant and growing spiritual life. This means more than just a simple reading through of God's Word, although that is a great start. But it is when we take that Word and really dig into it, studying it and even memorizing it, that we begin to see the full effect it can have on our growth.
In the first half of this stanza, the psalmist shared his desire for God's Word, and the joy it offers. In the second half, these four verses, he gives four practical ways to implement God's Word into our lives.
While there is some debate about how old the psalmist may be as he wrote this, one idea that seems to be likely is that this psalm is a sort of spiritual journal for King David. As such, it contains aspects of his spiritual growth through different periods of his life. In that case, these strophes at the beginning may represent his younger life, while those towards the end could have been written later in his life. I do not know if this is the case, but it certainly fits with much of this psalm's structure.
In light of this possibility, it seems as if the psalmist, probably David, is writing to encourage young readers, maybe because he is young himself at this point. As he does so, he gives four simple and practical applications to inserting God's Word into every area of our lives.