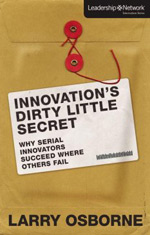 Innovation. It's what creates repeatedly successful leaders. You know the one's I'm talking about. The leader who has success again and again and again.
What is it that sets that kind of leader apart from the ones who have one good idea, or maybe two?
Innovation.
And when you understand it, you have the potential to become a serial innovator. But gaining an understanding isn't as common as you'd think.
Innovation's Dirty Little Secret is Larry Osborne's newest book, digging deep into the intricacies of innovation, helping us understand it better. From the v
Wait. What?ery beginning, Osborne sets up up to gain insights into the concept of innovation that most leaders never grasp. To start off, the first four chapters deal with creating an exit strategy.
An exit strategy may be the most important part of understanding how serial innovators succeed continually. Knowing when something isn't working, and having the ability and the courage to abandon it when it isn't working is a key element to creating repeat successes. Once you have an exit strategy in place, you are free to lead without fear, knowing that if something doesn't work, you can redirect your focus easily.
With that in place, igniting innovation, and creating an atmosphere where it accelerates is relatively easy. It still requires effort and work to keep things flowing, but it's much easier to come up with great ideas when you accept that many of the ideas you have aren't the great ones. You can be more relaxed, knowing that you can let go of mediocrity and focus on greatness.
Osborne directs his attention next to some of the things that sabotage innovation, and how to regain momentum when you stumble. And finally, to wrap things up, he spends a couple of chapters discussing the idea of vision, and how it relates to mission and innovation. These are perhaps the most important chapters in the book, and are regrettably short.
Although the idea of innovation is not a concrete concept, and is instead more abstract in nature, Larry Osborne has helped his readers to understand the idea more fully. Easy to read and full of excellent insights, Innovation's Dirty Little Secret is a book that will seriously help you reach the next level in successful leadership.
Would you describe yourself as innovative? Why or why not? Would you describe yourself as a serial innovator? You can leave your thoughts in the comments section below.
I strongly recommend that you read Innovation's Dirty Little Secret, by Larry Osborne. You can purchase it at Amazon.com in print or for Kindle.
Disclosure of Material Connection:
I received this book free from Cross Focused Media as part of their Cross Focused Reviews blogger review program. I was not required to write a positive review. The opinions I have expressed are my own. Also, some of the links in the post above are "affiliate links". This means if you click on the link and purchase the item, I will receive an affiliate commission. Regardless, I only recommend products or services I use personally and believe will add value to my readers. I am disclosing this in accordance with the Federal Trade Commission's 16 CFR, Part 255: "Guides Concerning the Use of Endorsements and Testimonials in Advertising."