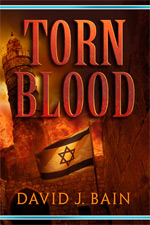 Most of the time, I'm a hit or miss fan of fiction that is controversial or apocalyptic in nature. But Torn Blood was a book I simply could not put down.
The plot is a labyrinth of mystery, and details unfold in their own time, and aren't easily predictable.
Only days before reporting for duty at the U.S. Embassy in Tel Aviv, Addison Deverell arrives in Israel on a mission: to identify the source of the conflict between Arabs and Jews. Going into Palestinian territory for answers he can't find in Israel, Addison struggles to uncover the truth. And he faces danger from those he seeks to understand and finds himself a pawn in a plot to eradicate the Jews from the earth. In the midst of all of this, Addison, along with his mother, discover a hidden identity, and their true destiny.
For the most part, the story was gripping and held my attention completely. However, toward the end of the novel, Bain seems to get in a hurry, and wraps up a lot of loose threads too quickly. Other than that, I found the book to be highly interesting and well worth my time to read it.
Continue Reading…