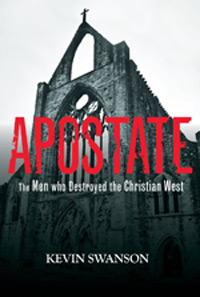 Western civilization as we know it is on the decline. Immorality and decadence are rampant. God has been evicted. And we are dying.
How did it start? Where did it start?
And, more importantly, what can we do about it?
Kevin Swanson has written what may by the most troubling, and yet the most important, book of our time.
Our society, in fact, all of western civilization is crumbling around us. And still we blindly plod onward, as if nothing at all were the matter.
But it is. And in Apostate, Swanson identifies the basis of our failing worldview, and the men who created and defined it for us.
Swanson's timing could not have been more providential. With a Christian worldview fading into nothingness, and the need for a strong biblical stance stronger than ever before, Apostate identifies the perpetrators and the proponents of the godless mentality that pervades our society. It's so prevalent, it seems as if we no longer even have the capacity to think completely biblically. We've been indoctrinated in the severest way, and we glorify the men who led us astray.
From prominent philosophers like Thomas Aquinas, Rene Descartes, Jean-Jacques Rousseau, and ideologists, like Marx, Nietzsche, and Darwin, Swanson takes us on a harrowing parade through history, exposing the atheistic and rebellious thoughts, ideas, and practices that have led to our current cultural demise.
From there, he takes exposes others who are just as culpable, like Ralph Waldo Emerson, John Dewey, Shakespeare, Hawthorne, Twain (Yes, Mark Twain!), Hemingway, and Steinbeck.
Many of these names echoed through the halls of schools and colleges around the world. I can recall hearing these names listed as the greatest minds of literature, philosophy, and education, and touted as the greatest leaders of our times.
But their ideas and practices have led us to where we are. They led. But we followed. And now we have our work cut out for us. We need to recall our biblical roots, recreate a biblical worldview, and restore our culture to a biblical mindset.
Or else, we are doomed.
If you are concerned at all about the direction our culture is going, and why it is headed that way, you need to read Apostate. You'll be shocked. You'll be appalled. You be horrified.
But you'll be informed. And once informed, you'll be aware.
Find this book. It might just be the most important book of our time.
What most troubles you about where our society is headed? You can leave your thoughts in the comments section below.
I strongly recommend that you read Apostate, by Kevin Swanson. You can purchase it at Amazon.com in print or for Kindle. Also, you can listen to two different interviews with the author about the book and our troubling time. Find them here and here.
Disclosure of Material Connection:
I received this book free from Cross Focused Media as part of their Cross Focused Reviews blogger review program. I was not required to write a positive review. The opinions I have expressed are my own. Also, some of the links in the post above are "affiliate links". This means if you click on the link and purchase the item, I will receive an affiliate commission. Regardless, I only recommend products or services I use personally and believe will add value to my readers. I am disclosing this in accordance with the Federal Trade Commission's 16 CFR, Part 255: "Guides Concerning the Use of Endorsements and Testimonials in Advertising."