Last week, I wrote a review of Scripture Stickies, Post-It notes printed with passages of Scripture that can help you memorize.
Along with my review, I presented three opportunities to win a set of Scripture Stickies for yourself.
These things are pretty cool. It's such a simple concept. You take one and stick it where you'll see it frequently. Every time you see it and read it, you're that much closer to memorizing it.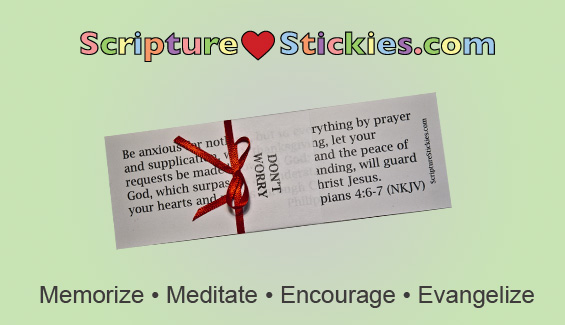 I had three packets to give away, to three commenters. However, only one person left a comment. She will receive all three packets: Friendship, Love, and Get Well Soon.
And so, the winner is…
Trisha Irvin!
Each packet that Trisha receives comes with ten stickies, two each of five verses on any given topic. That's a total of 30 Scripture Stickies that Trisha will be able to stick around her home! That's pretty cool.
Don't forget…
Readers of JeffRandleman.com receive an additional bonus when they order Scripture Stickies! If you make a purchase from ScriptureStickies.com, enter the code "RANDLEMAN" at checkout to receive a ten percent discount and free shipping!
Congratulations to Trisha Irvin. I hope these Scripture Stickies are a fun and encouraging resource enabling her to memorize more passages from God's Word.
What do you do to help you memorize Scripture? You can leave your thoughts in the comments section below.