One of the most prominent features of JeffRandleman.com is the weekly scripture memorization post.
I try to memorize God's Word on a regular basis, placing key passages into my heart and mind so that I can draw on them when I need them.
In 2011, I worked to memorize the Sermon on the Mount. This year, I'm memorizing several selected passages that have impacted me throughout the years.
Recently, Julie Alvarez, of ScriptureStickies.com, contacted me. She asked if I would be willing to use and review her Scripture Stickies, and give away a few sets.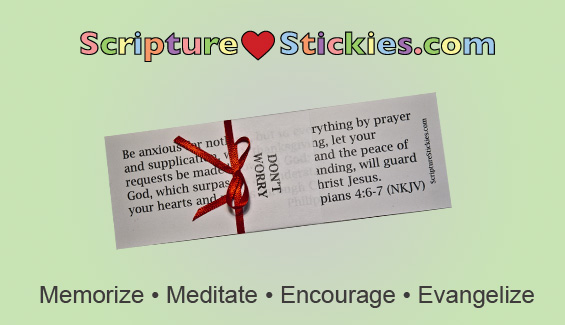 I was more than happy to give them a look. And I'm pretty impressed.
Sometimes, the most innovate inventions are the most simple. And simplicity is exactly what Julie Alvarez has implemented in Scripture Stickies.
Scripture Stickies are nothing more than Post-It Notes, imprinted with passages of Scripture, that are easily placed just about anywhere you can think of. By strategically placing God's Word all around you, where you can see and read it often, you can easily memorize dozens of passages in no time at all. Check out their video:
Each pack comes with ten stickies, two each of five verses on any given topic. Topics include Love, Friendship, Get Well Soon, Don't Worry, Follow God, and almost two dozen more! Or, you can order a set of custom passages to fit your own needs. Check out the full selection here.

In the process of communicating with Julie and Scripture Stickies, some really cool things came about.
Really Cool Thing #1
I have three sets of Scripture Stickies to give away through JeffRandleman.com. The ones I have to give away are the Get Well Soon, Friendship, and Love packets. Here's what you need to do to enter:
Leave a comment below, telling me your favorite passage of Scripture,
Share this post on Twitter or Facebook (you can use the share links at the bottom of this post),
And, like Scripture Stickies on Facebook.
On Friday, February 3, I will randomly select three commenters to receive a packet of Scripture Stickies.
Really Cool Thing #2
Julie has generously offered a discount to JeffRandleman.com readers. If you make a purchase from ScriptureStickies.com, enter the code "RANDLEMAN" at checkout to receive a ten percent discount and free shipping!
Really Cool Thing #3
Julie has also created a packet of Scripture Stickies containing all 52 passages that we will be memorizing in 2012. She's selling this packet for $14.99, but if you enter the code mentioned above, you can save a little and get the free shipping on these. With this packet, you'll have a Scripture Stickie ready to go each week, as we memorize several key passages together this year.  You can find this packet at the bottom of the Scripture Stickies shop page.
I'm pretty excited about this partnership with Scripture Stickies. If you're interested in finding out more information, or want to purchase some Scripture Stickies, check out their website, and browse around a while.  You'll be glad you did! 
What is your favorite passage of Scripture? Have you committed it to memory? You can leave your thoughts in the comments section below.