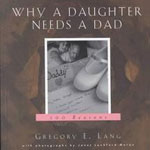 Gregory E Lang has written several books about family relationships. I have two of his books, and this is the second post in this mini-series about fatherhood. I posted a some of my favorite points from Why A Son Needs A Dad a few days ago. You can check out that post here. You can purchase both Why A Son Needs A Dad, and Why A Daughter Needs A Dad from Amazon.com.
Here are a few of my favorite entries from Why A Daughter Needs A Dad.
A daughter needs a dad:
To teach her that her value as a person is more than the way she looks.
Who will always have time to give her hugs and kisses.
Who will never think she is too old to need him.
So she will know what it is like to be somebody's favorite.
To answer the questions that keep her awake at night.
To be the safe spot she can always turn to.
To show her how it feels to be loved unselfishly.
To be the standard against which she will judge all men.
Who will influence her life even when he isn't with her.
To teach her the meaning of integrity, and how to avoid the crooked path.
So that she will have at least one hero who will not let her down.
To tuck her in at night.
To teach her what it means to always be there.
To help her try again whenever she fails.
So that when no one else is there for her, she can close her eyes and see him.
To hold her as she cries.
To carry her just because she wants to be carried.
To set a moral standard for her.
Who teaches her she is important by stopping what he is doing to watch her.
To remind her of the comfort of being held near and feeling secure.
To build a loving house of a foundation of wisdom and understanding.
To teach her the importance of being a lady.
Who gives her refuge in a home secured with faith.
To teach her the joy of serving others.
To calm her when she is stressed by her challenges.
To teach her how things work.
To fix her favorite things.
To teach her how to fix things for herself.
To tell her all she needs to know about boys.
To teach her how to recognize a gentleman.
To stand with her on the day she marries the man she hopes will be just like her father.
To help her become the best mother she can be.
To help around the house so that her mother will have time to spend with her, too.
Because without him she will have less than her life deserves.
There are a lot more great reminders in this book than just these. These are the ones that stood out to me. Just like I found in Why A Son Needs A Dad, some of them stood out because my daughters need that truth. Others stood out because I need it.
These little books are filled with short, simple concepts; but the truth hidden inside is profound.
What about you? What truths do you need reminded of occasionally (or frequently)? Why does your daughter need a dad? Why do you (or why does your wife) need a dad?
List them out in the comments. I want to hear your thoughts on this.
Disclosure of Material Connection:
Some of the links in the post above are "affiliate links." This means if you click on the link and purchase the item, I will receive an affiliate commission. Regardless, I only recommend products or services I use personally and believe will add value to my readers. I am disclosing this in accordance with the Federal Trade Commission's 16 CFR, Part 255: "Guides Concerning the Use of Endorsements and Testimonials in Advertising."