In the last passage, Peter stated that live in unity and be a blessing to others. He supported that statement with a quote from the Old Testament. Read it for yourself in 1 Peter 3:10-11.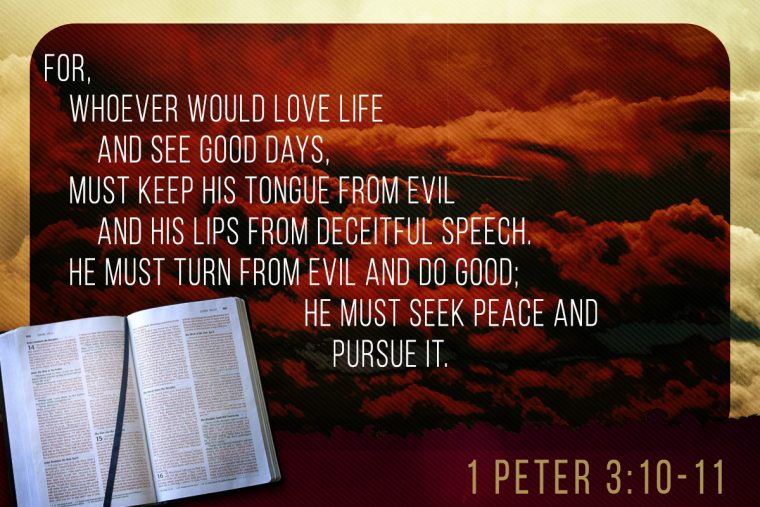 Peter states very clearly that we are to live our lives to a higher standard, and especially so when we are faced with suffering because of it. In order to reinforce this, he quotes the Old Testament book of Psalms, using the Septuagint version. The Septuagint was a Greek version of the Hebrew Old Testament Scriptures, and Peter uses Psalm 34:12-16 from it to make his point.
Here is the entire passage:
Whoever of you loves life
and desires to see many good days,
keep your tongue from evil
and your lips from speaking lies.
Turn from evil and do good;
seek peace and pursue it.
The eyes of the Lord are on the righteous
and his ears are attentive to their cry;
the face of the Lord is against those who do evil,
to cut off the memory of them from the earth.
Psalm 34 is a good supporting text for Peter's point here because of several reasons. First, Psalm 34 encourages those who face persecution for righteous living. Second, the command to watch your tongue is exactly what Peter is stating in verses 8-9, so this Psalm makes an excellent support for that point as well. Also, the fact that God pay attention to the prayers of the righteous and the actions of evil people lends credence to Peter's statement about our own behavior and prayer, as shown in 1 Peter 3:7 and 4:7.
Part of this will be next week's passage, but the strength of this quote is very clear for Peter's initial audience. He wants them to live righteously in the face of persecution and suffering. He calls us to do the same thing in our own lives as well.
Question: Take a few moments and read Psalm 34 in its entirety. What are your initial thoughts? You can leave a comment by clicking here.