Peter is close to wrapping up his thoughts on suffering in this chapter, however, he still has a few things to make clear to his readers. You can see what he has to say in 1 Peter 4:14-16.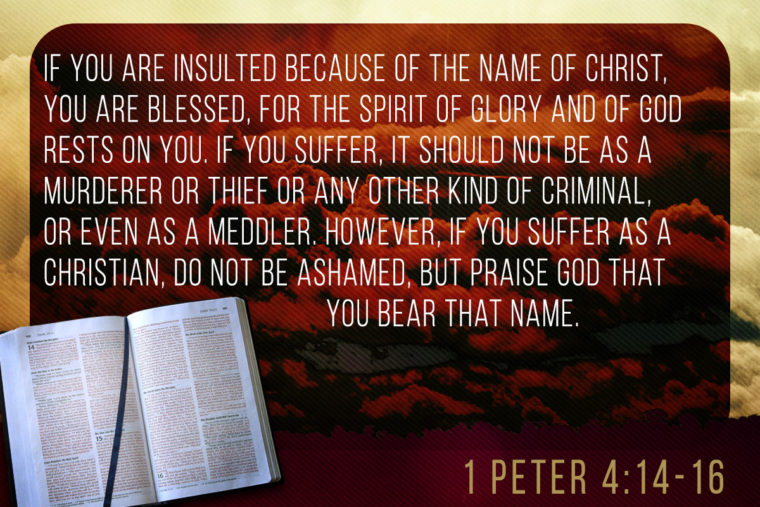 One of the major themes through the letter of 1 Peter is how Christians are to bear up under suffering and persecution, and in particular, verbal abuse. Peter has addressed this topic multiple times, and given some solid encouragement in each instance: the accusations of unbelievers in 2:12, ignorant talk in 2:15, insults in 2:23, malicious speech in 3:16. Peter has made it clear that believers will face such things, and in this passage, he gives perhaps his most encouraging statement concerning such suffering.
He states, quite clearly, that if we suffer because of the name of Christ, we are blessed.
That may seem to go against all logic and coherent thought. Suffering and blessing are tied together? That seems crazy. But Peter is very clear when he says this.
To be sure, he distinguishes suffering for wrongdoing in the next verse, and that kind of action brings about what it deserves. But if you suffer for the sake of Christ, you are blessed. That seems hard to believe, but it isn't the first time this thought has been demonstrated in Scripture.
In Matthew 5:10-12, Jesus is teaching the Sermon on the Mount, and is listing the Beatitudes, when he says:
"Blessed are those who are persecuted because of righteousness, for theirs is the kingdom of heaven. Blessed are you when people insult you, persecute you and falsely say all kinds of evil against you because of me. Rejoice and be glad, because great is your reward in heaven, for in the same way they persecuted the prophets who were before you."
Why is this the case? Peter gives us the answer when he says, "for the Spirit of glory and of God rests on you." God is with his people, even in the midst of suffering and persecution.
As we have already mentioned, suffering should accompany wrongdoing, which Peter points out in verse 15. Suffering because you have done something wrong is never commendable. Peter lists a couple of examples of those who do evil, and should be held accountable for their wrongdoing: murderers, thieves, criminals, even meddlers.
But, if you suffer for the sake of Christ, that is an entirely different thing. And by "if," Peter certainly means "when." Because it will happen.
Peter gives us an interesting insight here. He says, "if you suffer as a Christian." The word Christian is rare in the New Testament, used only here and in the book of Acts, in 11:26 and 26:28. The term was likely an insult and a derogatory term attached to believers by non-Christians. The church usually referred to themselves by other names, such as "disciples," "saints," or "the way." So Peter is probably indicating that people are being called names, "Christians," as a part of the persecution. That is an interesting little tidbit of information.
It doesn't take long, however, for the church to accept that moniker and begin using it themselves.
All of this is to point out that fact that, when we suffer, no matter what form it may take, we should not be ashamed, but bear it with the knowledge that we are in good company, and we should give God praise because of it.
Question: What do you typically do when you face suffering or persecution for the sake of Christ? Do you try to hide in shame, or bear it with praise? You can leave a comment by clicking here.