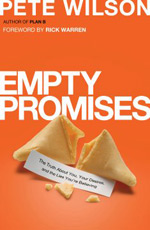 A few months ago, I picked up a copy of Timothy Keller's book, Counterfeit Gods, and read it. Revealing the hidden and accepted idols in our lives, I was overwhelmed, and it impacted me deeply.
Last week, I started Pete Wilson's new book, Empty Promises. Dealing with the same subject of idolatry, this book served to reinforce what I'd just read recently in Keller's book.
When I started the book, I expected another feel-good type of book, like Wilson's first book, Plan B. While challenging, it didn't leave me with a lot of lasting change. That's what I expected to receive from Empty Promises. But that's not what I got.
In Empty Promises, Wilson delivers a hard hitting punch to the fact that we worship at the altar of many things that are not God. With chapters covering such topics as the idolatry of achievement, approval, power, appearance, success, and even religion, Wilson brings many hidden things to light, things that most of us, if we're honest, would rather not deal with, because we are comfortable in the way things are.
Pete Wilson challenges that comfort.
The only negative with Empty Promises is this: Wilson has some theological hang-ups that he can't seem to get over, and these rear their ugly heads occasionally throughout the book. They take on the form of petty ranting, and do nothing to add to the impact the book has; in fact, they detract from it somewhat.
However, in spite of that, Empty Promises is anything but that; it delivers.
This is a book that I know I will refer to again and again. I'd recommend that you pick up a copy and read it. You won't be sorry.
Have you ever faced the reality of idolatry in your life? What resources have you found helpful? You can leave your thoughts in the comments section below.
If you are interested in reading Empty Promises, by Pete Wilson, you can purchase it at Amazon.com.
Disclosure of Material Connection:
I received this book free from Thomas Nelson Publishers as part of their BookSneeze blogger review program. I was not required to write a positive review. The opinions I have expressed are my own. Also, some of the links in the post above are "affiliate links". This means if you click on the link and purchase the item, I will receive an affiliate commission. Regardless, I only recommend products or services I use personally and believe will add value to my readers. I am disclosing this in accordance with the Federal Trade Commission's 16 CFR, Part 255: "Guides Concerning the Use of Endorsements and Testimonials in Advertising."