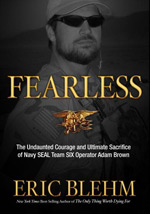 Biographies have been a solid staple of my reading diet for the past few months. Looking deep into the lives of great people is educational, inspiring, and helps me become more of the person that I'm created to be. For most of my life, I dreaded reading the biographies that was assigned to read, or given by friends and families. But recently, I have discovered that learning from the lives of others has incredible benefits for my life.
Last night, in tears, I finished Fearless, a biographical work on the life of Navy SEAL Adam Brown. But the term "biographical" doesn't describe what this book really is. Fearless is a book about a man, displaying his failures as well as his successes, his patriotism, his courage, his love for his family and for his God. Fearless is better described as "inspirational", "motivational", and "life-changing".
Fearless is the story of Adam Brown, a home-grown boy from Hot Springs, Arkansas. The story details his life and activities as a child and teenager, his descent into drug abuse after high school, and his climb out of that pit into the elite world of specialized Navy warfare as a member of Navy SEAL Team SIX.
Fearless is inspirational. Reading this story will encourage you to higher levels of love and service, for your family, your friends, your country. The life of Adam Brown will inspire you to love more, like Christ did.
Fearless is motivational. As you read of the injuries, the challenges, the setbacks, that Adam Brown overcame, you'll quickly feel the confidence that you can achieve your dreams as well.
Fearless is life-changing. Very rarely do I tear up when I read a good story. Even more rarely do I cry. Fearless brought me to that point. In the life of Adam Brown, we see a man who loved everyone. His passion for his wife and children was overwhelming. His comradeship with his fellow teammates was deep and enduring. His compassion for the poor and oppressed Afghan children was incredible. And his desire to live for his Savior was awe-inspiring.
Adam Brown was living proof that "with God, all things are possible." He lived his faith for all to see.
Fearless was so captivating that it was difficult to put it down, even though I knew how it had to end. In the act of protecting his fellow Navy SEALs, and American freedom, Adam Brown gave the ultimate sacrifice. And his story is well worth reading.
Do you read biographies? What is your favorite? You can leave your thoughts in the comments section below.
If you are interested in reading Fearless, by Eric Blehm, you can purchase it at Amazon.com.
Disclosure of Material Connection:
I received this book free from Multnomah Books as part of their Blogger Review Program. I was not required to write a positive review. The opinions I have expressed are my own. Also, some of the links in the post above are "affiliate links". This means if you click on the link and purchase the item, I will receive an affiliate commission. Regardless, I only recommend products or services I use personally and believe will add value to my readers. I am disclosing this in accordance with the Federal Trade Commission's 16 CFR, Part 255: "Guides Concerning the Use of Endorsements and Testimonials in Advertising."