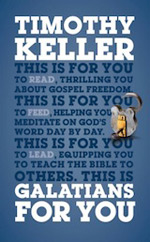 I don't think I've ever sat down and read a commentary straight through, from cover to cover.
Until now.
My usual mode of operation, when it comes to using biblical commentaries, is to reference the specific sections on the passages I need. And I have several different series of commentaries on my shelves, giving me a lot of reference material for Bible study.
But Galatians For You, by Timothy Keller is different. It's a commentary. But it's also a devotional. It's concise and factual. But it's also challenging and thought provoking.
I sat down and read the first five chapters in one evening, and finished it the next day. I was simply astonished and the way Keller transformed the book of Galatians in my mind from one of the smaller letters of Paul to a strategic presentation of the Gospel. There are complexities and depths that I'd never experienced in Paul's six short chapters. And Keller presents them in a fashion that establishes the purpose of Galatians in a simple and engaging way.
Recently, I started a new Bible study habit. I started hand writing my own copy of the Scriptures. One of the first books I copied was Galatians. And I learned more about this letter than I'd ever know before. And now, after reading Galatians For You, Galatians is quickly becoming one of my favorite sections of the New Testament, simply because I understand it so much better then ever before.
Galatians For You is the first book in a new series of Bible study tools from The Good Book Company. And the purpose of this series is three fold:
To READ: Galatians For You will guide you in understanding the letter much better than you ever have before.
To FEED: The books in this series are designed with a devotional intent, helping you deepen your relationship with God as you deepen your understanding of his Word.
To LEAD: With a verse by verse explanation laid out in a simple to read format, this book is an excellent resource and tool that you can use to teach others the truths of God's Word.
I was very impressed with the simplicity of Galatians For You. I'm pretty excited to see the next books that will be published in this series. I'm excited because they are great tools to use in ministry. But I'm looking forward even more to the challenge of deepening my own personal understanding of God and his Word.
Check out the trailer for Galatians For You by The Good Book Company:
I loved Galatians For You, and am excited to see what's next in the series. I highly encourage you to check it out. Grab a copy and read it. You may end up like me, unable to put it down. If that's the case, take the time after you finish it to reread it more slowly. Who know just how much you can learn from such a tool?
Paul wrote a significant portion of the New Testament. Which of his letters do you like the best? Why? You can leave your thoughts in the comments section below.
If highly recommend that you pick up a copy of Galatians For You, by Timothy Keller. You can purchase it at Amazon.com in print or for Kindle.  You can also purchase the additional study guide to go along with it.
Disclosure of Material Connection:
I received this book free from Cross Focused Media as part of their Cross Focused Reviews blogger review program. I was not required to write a positive review. The opinions I have expressed are my own. Also, some of the links in the post above are "affiliate links". This means if you click on the link and purchase the item, I will receive an affiliate commission. Regardless, I only recommend products or services I use personally and believe will add value to my readers. I am disclosing this in accordance with the Federal Trade Commission's 16 CFR, Part 255: "Guides Concerning the Use of Endorsements and Testimonials in Advertising."