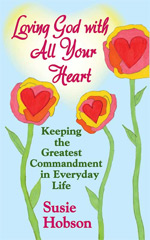 Not too long ago, a friend of mine with Nordskog Publishing gave me a copy of Susie Hobson's book, Loving God With All Your Heart.
It's a short book, easily read in a couple of hours, examining Jesus' Greatest Commandment to love God with all our heart.
I wasn't that impressed with the book overall. While there were places here and there that stood out as somewhat insightful, overall the book is not very challenging for spiritual growth.
I usually read with a pen and highlighter handy. This book simply offered nothing of significance for me, and the margins of this book remain blank.
In my opinion, there are other resources addressing the command to love the Lord with all of our heart, soul, mind, and strength, such as Primal, by Mark Batterson.
What is your favorite book or article on this topic? You can leave your thoughts in the comments section below.
Disclosure of Material Connection:
I received this book free from Nordskog Publishing in order to read and review on my blog. I was not required to write a positive review. The opinions I have expressed are my own. I am disclosing this in accordance with the Federal Trade Commission's 16 CFR, Part 255: "Guides Concerning the Use of Endorsements and Testimonials in Advertising."