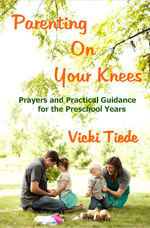 One of the biggest passions of my life is being the best dad I can be to my kids. Three of my kids are older children, one is entering her teenage years. But the other three are preschool age and younger.
While I could have used Parenting On Your Knees with my older three, I will definitely be applying some of the principles with my younger three kids as we struggle our way through the preschool years.
Vicki Tiede has done an excellent job of putting together a book that is quick and easy to read, and yet with a deep and meaningful impact for parents.
She has written each chapter in a very brief manner. That works out quite nicely, since you may only get a few minutes to read with preschool age kids in the house.
Also included with each of the thirty-three short chapters are suggested resources; one for the parent to read, and another to read to your kids. I've never seen such an idea in any of the parenting books I've read, and many of these suggestions have made their way into our plans and budget for the near future.
Parenting On Your Knees is an excellent resource for parents, whether this is your first child, or number four, five, six…. I recommend that you pick it up and read it yourself. You'll be glad you did.
What is your favorite parenting book? You can leave your thoughts in the comments section below.
If you are interested in reading Parenting On Your Knees, by Vicki Tiede, you can purchase it at Amazon.com in print or for Kindle.
Disclosure of Material Connection:
I received this book free from Cross Focused Media as part of their Cross Focused Reviews blogger review program. I was not required to write a positive review. The opinions I have expressed are my own. Also, some of the links in the post above are "affiliate links". This means if you click on the link and purchase the item, I will receive an affiliate commission. Regardless, I only recommend products or services I use personally and believe will add value to my readers. I am disclosing this in accordance with the Federal Trade Commission's 16 CFR, Part 255: "Guides Concerning the Use of Endorsements and Testimonials in Advertising."