Paul finishes his description of the qualities of the elder in this week's passage, before he shifts to deacons, who have very similar characteristics. In these final two verses of his qualifications, he lists two final considerations.
You can find these qualities in 1 Timothy 3:6-7: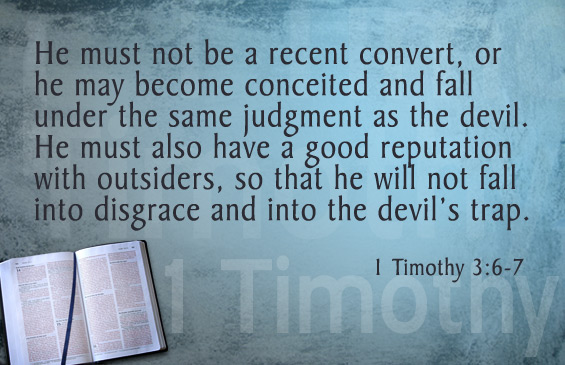 In the first three verses, Paul goes through a long list of attributes, one right after another. In the next two verses, he devotes the entire passage to one qualification. In this week's passage, he wraps up his discourse with two final thoughts for elders.
The first of these two is the idea that an elder must not be a new convert, or a novice. New converts would not have the expected spiritual maturity that a leader would have. The Ephesian church had been in existence for at least a dozen years or more, so spiritually mature men would have been available, in contrast to Titus' instructions on Crete, which was a brand new church, where everyone was a new convert (Titus 1.) The prime concern here is spiritual maturity, not necessarily longevity in time (see 1 Timothy 5:22).
If someone rose too quickly into such a position of leadership, the temptation is to become conceited and proud. Since the false teachers were described as conceited (1 Timothy 6:4), one has to wonder if Paul still has them in mind as he writes this.