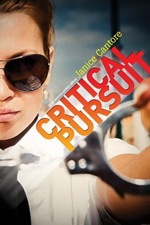 As a fan of legal fiction, such as John Grisham or Randy Singer, I also enjoy good cop/crime fiction. Most of the stuff in this genre that I've read has been from mainstream authors; I've never read good crime fiction from a Christian author.
Until now.
Janice Cantore has written an amazing book in this area, creating a plot that holds the attention until the book is done. And at that point, you wish that there was more.
Critical Pursuit is a book that Cantore published originally under a different title, The Kevlar Heart, several years ago. But recently, Tyndale House reprinted it with the new name. When I received a review copy, I was skeptical. Mainly because good fiction and Christian fiction rarely are found together.
Cantore has weaved a tale that creates suspense and drama, holding your attention. She has developed characters that you start to love and you begin to identify with them.
And she pulls a thread of faith through the story that doesn't leave you with an impression of it being cheesy. In Critical Pursuit, both of the main characters, Brinna Caruso and Jack O'Reilly, deal with questions concerning God's existence. Caruso has never believed, while O'Reilly has had a crisis of faith after losing his wife. Both of them have similar questions about God, and are seeking answers.
In the meantime, a psychotic predator is snatching children from around the area. And it's becoming personal for one of these officers.
When these two cops are paired together for a few weeks, their questions need answers, and a criminal needs captured. How they accomplish these things is nothing short of inspirational.
As a new author, at least to me, Cantore seems to be pretty impressive. I'm looking forward to reading more.
Do you enjoy cop/crime fiction? If so, who do you like to read? You can leave your thoughts in the comments section below.
If you are interested in reading Critical Pursuit, by Janice Cantore, you can purchase it at Amazon.com in print or for Kindle.
Disclosure of Material Connection:
I received this book free from Tyndale House Publishers as part of their Blogger Review Program. I was not required to write a positive review. The opinions I have expressed are my own. Also, some of the links in the post above are "affiliate links". This means if you click on the link and purchase the item, I will receive an affiliate commission. Regardless, I only recommend products or services I use personally and believe will add value to my readers. I am disclosing this in accordance with the Federal Trade Commission's 16 CFR, Part 255: "Guides Concerning the Use of Endorsements and Testimonials in Advertising."