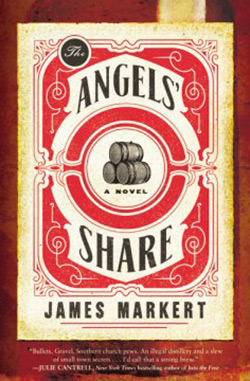 Mystery and suspense fiction are some of my favorite kinds of fiction. And while The Angels' Share isn't necessarily suspense, it will keep you reading until you finish the book.
Set in the early 1930s, after World War 1 and Prohibition have ended, The Angels' Share is the story of a young man trying to find his way, and a way for his broken family. The family owned a bourbon distillery in the hills of Kentucky. When Prohibition shut it down, and the family experienced the death of their youngest child, it seems like they have been beaten beyond recovery.
But a transient is buried in the potters graveyard nearby, and many believe that he was Christ returned to earth. The story unfolds, exposing dirty secrets, incredible miracles, and flourishing love, love between a man and a woman, and love for mankind as a whole.
The Angels' Share is a great story, set in a historical context that is rare to find. And although it is centered around a bourbon distillery, the pros and cons of alcohol consumption are not a prominent part of the storyline.
I found The Angels' Share a difficult book to set aside, and was captivated until the very end. I look forward to reading more fiction from James Markert in the future.