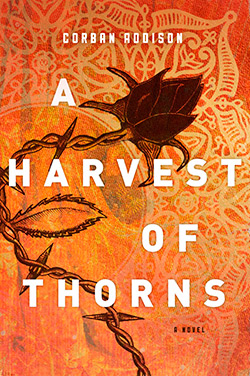 I love reading a good legal thriller. It's one of my favorite genres, and I have found several authors that I really enjoy. When I saw A Harvest Of Thorns, is seemed to be right up my alley, and I anticipated getting into it.
The story line was good, maybe even great. It's a story based on the reality of sweat shops and slave labor, and addresses the rights of workers in developing countries who make the products we find on our shelves. It's a novel that drives home a point. While it's fiction, the individuals found within it could easily be real people. Their situations are not that different.
However, there was one glaring stain that ruined the whole book for me. More than a dozen times, the book used profanity. Now, before you accuse me of being overly sensitive, I have read plenty of material that contains such vocabulary. And I'm generally not offended. However, in this case, the publisher is Thomas Nelson, a Christian publisher, and I expected to find a story that was free of this kind of stuff. In that, I was greatly disappointed.
Very often, my kids ask to read my books. And very often, I let them read them, especially when they are books that are clean. This is one I will not be letting my kids read. And I'm severely disappointed by that fact.