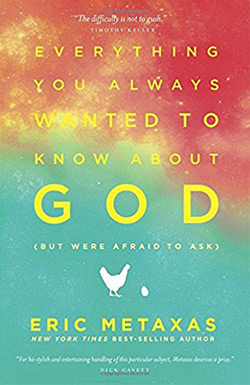 Many people have questions about God, and many of those questions are good ones. But most people simply do not know where to go for the answers. Some have great church communities that can provide many of these answers, others do not. Eric Metaxas has taken the challenge to write a book that takes a good look at many of those questions, and provide some of the answers for those who are seeking them.
In Everything You Always Wanted To Know About God, Metaxas discusses many different topics, from the topics of evil and suffering, to sex, to miracles, and much, much more. The questions are good questions; and the answers are out there, and Metaxas does a great job of covering a lot of good information.
It's just the format that I didn't really like. Metaxas writes this in a Q & A, conversational style of writing that feels disjointed and can be hard to follow. Plus, he places some pithy humor is places that don't warrant it, and it comes across as somewhat snarky. I had a difficult time with the format of the book, even though the information in it is excellent.
So I was mildly disappointed. I have read several other books by Metaxas, including Bonhoeffer, 7 Men, and 7 Women. This book was very different from those, and as a result, I didn't enjoy it as much as his other works. Again, though, it bears repeating, the information and the answers he gives are great.