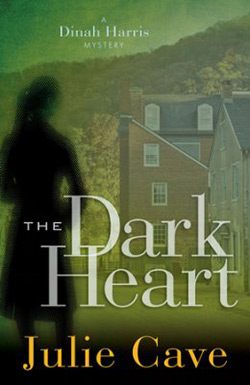 Julie Cave may be one of my favorite authors. Her ability to weave a tale of faith intermingled with mystery and suspense is almost beyond comparison. She is a talented author, there is no doubt.
I first discovered her books several years ago, when I reviewed a couple of novels from her Dinah Harris series: The Shadowed Mind and Deadly Disclosures. The Dark Heart is the fourth novel featuring Dinah Harris, and it may very well be the best yet.
Author Julie Cave writes a captivating fictional story, but she deals with the harsh realities of modern culture in doing so. Her character, Dinah Harris, is a recovering alcoholic who must deal with the tragic loss of her family. The depression and despair that come through seem almost real at times. The circumstances that define Harris' life are detailed in the first novel, but are touched on briefly in this one as well. However, I don't think you need to read them in sequential order.
In The Dark Heart, dark realities are present as well. Drug abuse and racism, and even the issue of bullying come to light in this novel, and Cave deals with them in a way that pulls no punches. Each of these are horrific in their own ways, and many people struggle with these issues. As Dinah Harris digs into this murder, seeking to solve the crime before another can be committed, Cave deals with each of these issues in a way that exemplifies her own faith in God.