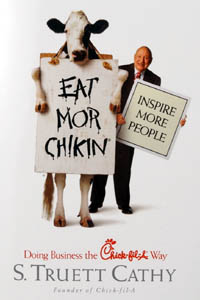 S. Truett Cathy is the founder of Chick-fil-A restaurants. He has built a restaurant empire with nothing more that hard work and a solid vision throughout the years. And it has succeeded in ways above and beyond his wildest dreams, and far beyond the competition.
Cathy and his younger brother, Ben, decided to go into the restaurant business shortly after World War 2. From the start, they built their business upon solid, biblical leadership principles. And it has paid off. God has blessed their efforts in ways they couldn't even imagine in 1946, and is still continuing to surprise Cathy even today.
From the very start, Cathy and his family decided that their lives would be God's, including their business. That meant several things: they closed on Sunday, the busiest day in a restaurant's week. They maintained a family atmosphere. They provided a trusting and challenging work environment for their employees. And they kept it in the family.
And as a result, Chick-fil-A has blossomed into the largest privately held fast-service food restaurant ever. And because of the blessings God has poured out into the Cathy family and business, they have been able to give back a generous portion of their profits to God's work.
One such way they give back is through a scholarship program called the WinShape Centre Foundation. The Cathy family, and Chick-fil-A, has sent more than 1,000 students to Berry College with WinShape scholarships, paying for those students' tuition completely. And Chick-fil-A has handed out thousands of smaller scholarships for students to go to other colleges. Another way of returning a portion of their income to God has been through the avenue of foster care. Truett Cathy and his family are foster parents to over 150 kids, in several different homes around the south and even in Brazil.
Eat Mor Chikin; Inspire More People is a book that tells the story of S. Truett Cathy, and Chick-fil-A. But it tells so much more. It is the story of God working through one man and his family who have committed their lives to being completely His.
God has done great things through S. Truett Cathy. And He will do even more through his children and grandchildren, all of whom are committed to continuing the legacy, holding on to the same values and principles. Eat Mor Chikin; Inspire More People is a great story of what God can do, and is doing. I highly recommend this book. It will challenge you to take stock and see if you are doing everything you do for God. S. Truett Cathy is.
If you are interested in reading Eat Mor Chikin; Inspire More People, you can purchase it at Amazon.com.
Disclosure of Material Connection:
Some of the links in the post above are "affiliate links." This means if you click on the link and purchase the item, I will receive an affiliate commission. Regardless, I only recommend products or services I use personally and believe will add value to my readers. I am disclosing this in accordance with the Federal Trade Commission's 16 CFR, Part 255: "Guides Concerning the Use of Endorsements and Testimonials in Advertising."