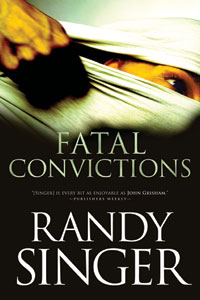 I am a huge John Grisham fan. Huge.
And so I have to admit, that when I was told that Randy Singer's new book, Fatal Convictions, was Grisham-esque, I was skeptical to say the least. I mean, come on. Who can compare to the master in the legal thriller genre? Anyone?
But once I started Fatal Convictions, I couldn't set it down (which presented a problem, since I started it just before I left to dean a week of junior high church camp). I grabbed every spare moment I could find and simply devoured this story.
The story is simple, at least until you get into it; there are so many plot twists and unexpected occurrences that keep you turning page after page.
Here's the story. Alex Madison is a part time pastor, and a small-time attorney in Virginia Beach, with a very promising personal injury case involving the wife of an imam at the local mosque. When the wife of another high-profile Muslim leader is murdered, and his client is the one accused of the crime, Alex must make a choice. Will he take the case and defend the imam, who he believes is innocent? Or will he decline, and concentrate his energies on his small practice and small church?
With the pressures of his church leadership, the media, and building tensions within his own office all weighing heavily on his heart, Alex must find a way to prove the innocence of his client. And the presence of the imam's beautiful daughter doesn't help the situation at all; she has her own ideas about how to handle the case.
Alex must decide how best to defend the imam, and prove his innocence, without endangering his own life or the lives of his closest friends and family. Can he do it? Or is he in over his head?
Fatal Convictions is a story that will grip your attention and not let go until you turn the final page. If you are a Grisham fan, then you will need to pick up Randy Singer's book and check it out. If you love a suspenseful page-turner, then you need to check this one out.
Want to find out more about Fatal Convictions? Check out this Q & A with the author, Randy Singer!
Want to read it for yourself? Here's a contest you can enter for a chance to win a copy of Fatal Convictions for yourself!
If you are interested in reading Fatal Attractions, by Randy Singer, you can purchase it at Amazon.com.
Disclosure of Material Connection:
I received this book free from Tyndale House Publishers as part of their Blogger Review Program. I was not required to write a positive review. The opinions I have expressed are my own. Also, some of the links in the post above are "affiliate links." This means if you click on the link and purchase the item, I will receive an affiliate commission. Regardless, I only recommend products or services I use personally and believe will add value to my readers. I am disclosing this in accordance with the Federal Trade Commission's 16 CFR, Part 255: "Guides Concerning the Use of Endorsements and Testimonials in Advertising."