My family is facing a huge change in the very near future.
We are moving halfway across the country, from the Missouri, in the Midwest, to the Gulf coast of Florida.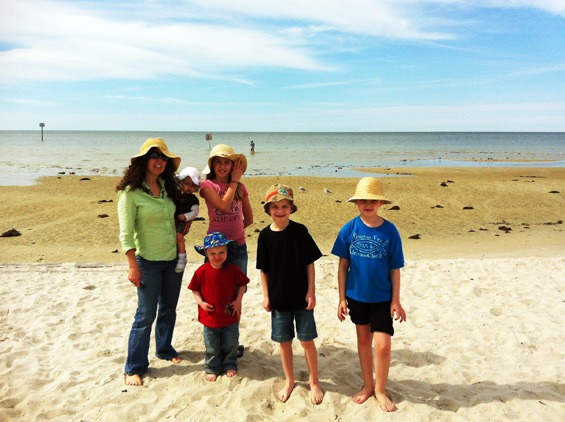 It's been a crazy process; one that practically fell into our laps.
At the first of May, I will become the new youth minister of the Brooksville Christian Church, in Brooksville, Florida.
It all started when a friend mentioned a ministry position that he knew of. I thought nothing of it. We weren't interested in moving away from Mountain View. But then the same position came across my Facebook feed, in a group of Christian church ministers that I am a part of.
So I asked for a few more details.
One thing led to another, and Mike, BCC's senior minister, and I were talking on the phone. That resulted in a resume, which led to a phone interview, and was quickly followed by a face-to face interview with my family traveling to Florida for a week.
The rest is history, as they say.
I've wavered back and forth on this decision for almost two months. Heather and I have been praying over this decision for that same amount of time. In fact, our two oldest children have often joined us in praying about this major decision. That in itself has been exciting for me, as a father.
The result is this: we are confident that God has placed this opportunity in our path. He wants us in Florida.
This will be a great move for us as a family. With all the amenities available nearby, both in entertainment and education value, there will be numerous opportunities for our family to do much together.
An increase in income, although offset somewhat by a cost of living increase, will allow us to become debt free faster.
With a larger population, the opportunities for networking with more homeschool families will be greater.
The ministry will be a challenge as well. With a small group of students currently involved in the ministry, but with such a population pool surrounding the church, the possibilities for Kingdom growth are tremendous.
While we were visiting the area in late February, we were astounded by the friendliness shown to us. BCC seems like a place full of people who love being a part of the ministry there.
Leaving Mountain View will be difficult. We have developed several great relationships here. And with the nearness to our previous ministry in Kimberling City, and the friendships developed there, we will be moving a long way from most of the people who know us and love us best. That will be tough. Our kids have already begun to miss their friends, and we are still several weeks away from the move itself.
Over the course of the next few weeks, we have a lot to accomplish.
Contact and arrange either a truck(s) or a moving company
Reduce and declutter the house
Eliminate a lot of stuff through a moving sale
Prepare and list the house on the market
Pack everything
Finalize things in the ministry at MVCC
Pass the reigns of this ministry to the next guy, or to a team of volunteers in the interim
Say goodbye to family and friends
It's going to be a busy time.
It's going to be a stressful time.
It's going to be a heartbreaking time.
It's going to be an exciting time.
It's the next phase in the Randleman family adventure. Watching God unfold the future, and partnering with him in the process, is amazing. And scary, too. There are so many "what if's" in my mind; so many questions.
But there is also a peace. Covering this decision in prayer, like we have, has given us a very high level of certainty that we are making the right decision. We've prayed about it, and we've made our decision, trusting that God led us to the right choice.
What more can we do?
We would like to ask for your prayers concerning this transition. Prayers for the church in Brooksville. Prayers for the church in Mountain View. Prayers for our family as we work to make this change happen.
We covet your partnership with us in praying for this change.
Because it's big. It's really big.
But when does God do something that isn't?
Will you commit to praying with us for this move over the coming months? You can share your thoughts in the comment section below.