I ran across something intriguing this week in my Bible reading. It's a passage I've read a hundred times before, but I've never noticed this; perhaps because my Bible of choice is a NASB or NIV. This year, I'm reading the NKJV, and this passage jumped out to me.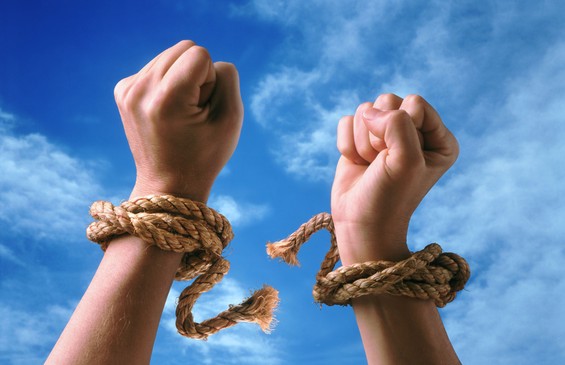 The passage is from Mark 5: 1-6. Here it is:
Then they came to the other side of the sea, to the country of the Gadarenes. And when He had come out of the boat, immediately there met Him out of the tombs a man with an unclean spirit, who had his dwelling among the tombs; and no one could bind him, not even with chains, because he had often been bound with shackles and chains. And the chains had been pulled apart by him, and the shackles broken in pieces; neither could anyone tame him. And always, night and day, he was in the mountains and in the tombs, crying out and cutting himself with stones. When he saw Jesus from afar, he ran and worshiped Him.
The last phrase is the one that stood out to me: "he ran and worshipped him."
I've never noticed that before. In the NIV, it's phrased "he fell on his knees in front of him." The NASB translates it as "bowed down before him." It's interesting what you can pick up from reading the same passages in a different translation.
This idea fascinated me. Why would this demon-possessed man worship Jesus?
Of course, the first thing to jump into my mind was the passage from James 2:19:
You believe that there is one God. You do well. Even the demons believe—and tremble!
Obviously, the enemy knows just who the Messiah is. But James tells us that the demons tremble at the thought of God. Why would this one worship him?
After a bit of research, I came across this idea. Maybe worship isn't referring to the demon, but instead to the man. This demon exerted tremendous control over the man. He exhibited super-human strength, and could break even the chains that were used to try to subdue him.
Perhaps this man, in an act of severe desperation and will, denied the demon control for long enough to run to Jesus and bow down in worship at his feet. He knew, as did the demon, that only Jesus could free him from this slavery. And even as re fell at Jesus' feet, the demon was defiant.
And shouting with a loud voice, he said, "What business do we have with each other, Jesus, Son of the Most High God? I implore You by God, do not torment me!"
There is a massive battle for control of this man's life gong on here. The demons have control; the man is ready to submit to Jesus' control.
You know the rest of the story. Jesus commands the demons to come out of the man. He sends them into a herd of pigs, which then runs over the cliff and into the sea, where they drowned.
As for the man? He continued to worship:
Then they came to Jesus, and saw the one who had been demon-possessed and had the legion, sitting and clothed and in his right mind… And when He got into the boat, he who had been demon-possessed begged Him that he might be with Him. However, Jesus did not permit him, but said to him, "Go home to your friends, and tell them what great things the Lord has done for you, and how He has had compassion on you." And he departed and began to proclaim in Decapolis all that Jesus had done for him; and all marveled.
We have here a story of a man, wild and unpredictable due to the infestation of demons in his life, and yet irresistibly drawn to Jesus, desperately drawn to Jesus.
Our lives are often the same. We are conflicted; the world has such a grip on our lives that we can't seem to shake it. And yet, once we know exactly who Jesus is, we are irresistibly, desperately drawn to him. We know instinctively that he is the only one who can free us from the chains of slavery to sin and the world.
And when he does, we are freed to serve him as he has called us to do. Notice that this man wanted to follow Jesus. But Jesus had greater plans for him. He instructed him to stay where he was. The people of this man's region didn't want Jesus there; they asked him to leave. But where Jesus was welcome, this man was at home. He could preach Christ, and "all marveled."
So here's the question: What is it in your life that's holding you back from serving God as effectively as you can? Are you desperate to be freed from it? You can share in the comments section below.