As 1 Peter 3 continues, Peter gives some encouragement to those who suffer for doing what is right. You can see this for yourself in 1 Peter 3:13-14.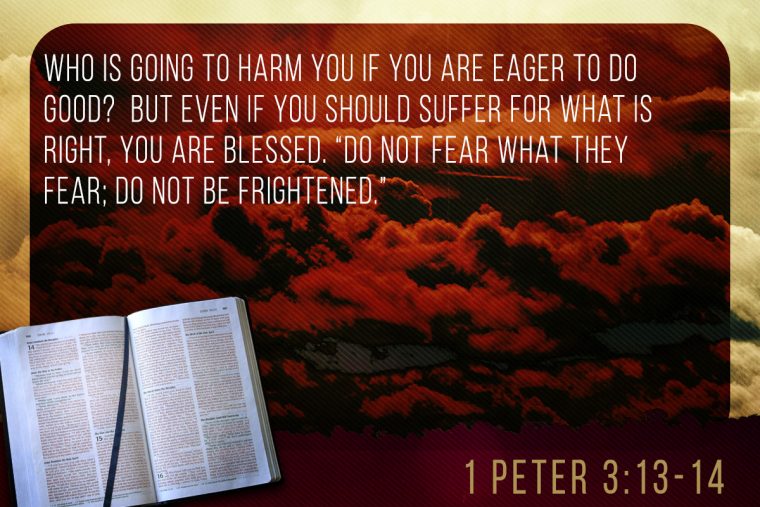 This idea of suffering for doing right is a common theme throughout this letter. Peter will revisit the idea of staying strong in the face of suffering again in chapter 4, verses 12-19. His encouragement to his readers is to be prepared, and to be strong.
He begins with a rhetorical question: Who is going to harm you for doing what is good? The answer, of course, is no one. That seems to be at odds with what he is writing about though, and at odds with what his readers are experiencing. And later, he will state that suffering for doing good is nothing strange or unexpected (4:12 and 5:9).
So what does he mean by this statement? I think he is referring back to his use of Psalm 34, which he just quoted in the previous paragraph. In Psalm 34, we see that God is in control, and is aware of everything that happens to his people. He rewards the righteous, and ultimately, will allow no harm to come to them. This statement here is the conclusion of Peter's use and exhortation of Psalm 34. It parallels Paul's thoughts in Romans 8, where he states that nothing can separate us from the love of God, or, as Peter refers to it, our inheritance.
He then makes a statement that seems to be the exact opposite of what we believe. He states that even if we do suffer for doing what is right, we are blessed. We tend to think that suffering is some kind of curse, and not a blessing. But Peter is repeating what Jesus taught in the Beatitudes. We are blessed when we face persecution and suffering. Why? Because it causes us to rely more completely upon him.
He supports this with a brief and loosely translated quotation from Isaiah 8:12. Literally, he states, "do not fear their fear." The NIV2011 gets the thrust of this more accurately, "Do not fear their threats." The world tries to produce fear in our lives, because the enemy does not want us to rely upon God. The less we rely upon God, the more we are in the grip of the enemy.
Peter tells us that we are not to give in to such fear. The only one we are to fear is God himself (see 1:17).
In a world filled with worry and fear, Peter gives us the answer. It's trust in the one who is in complete control.
Question: What is your fear level compared to your trust level? How can you fear less and trust more? You can leave a comment by clicking here.