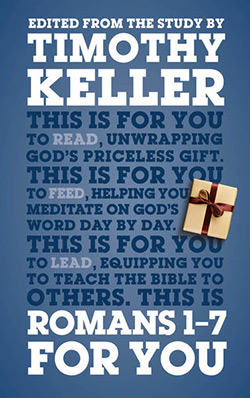 I have always been slightly intimidated by Paul's letter to the Romans.
This is one of Paul's longer letters, and frankly, it's deep. It's one of those books in the Bible that you have to read very carefully, or else you'll miss something. And the chances are good that you'll miss something anyway.
I have several commentaries on my shelf on the book of Romans for this very reason. Tow of my favorites are the College Press commentary on Romans, by Jack Cottrell, and the IVP commentary by Leon Morris. Both of these have helped me immensely as I strive to understand Romans.
But now, there is a third favorite on my shelf. Romans 1-7 For You by Timothy Keller is an incredible resource. Rather than just breaking down the text, like a commentary does, this series gives you the opportunity to really dig in and understand what this passage is saying, and then gives several ways to fit this into my life today.
The Good Book Company has started releasing several of the commentaries in this series. So far, I've read Galatians For You and Judges For You, both also by Keller. And Romans 1-7 For You continues the standard of excellence found in the rest of the series.
Although only covering the first half of the letter to the Romans, Keller takes a book that conveys the deep, theological truths of the faith, and explains it in a fashion that almost anyone can understand. That makes this series a great resource for not just ministers, but for teachers, for youth leaders, and for those just doing an individual study of the Bible.
Romans 1-7 For You is another excellent resource, full of easy to understand explanations of some of the deepest passages of the New Testament. I jumped at the chance to add this to my shelf,and can't wait for the other half to be released.
I highly recommend that you grab a copy of Romans 1-7 For You. It doesn't matter if you use it as a sermon resource, or for personal study, you will benefit greatly from this incredibly helpful resource.
Question: What is your favorite book of the New Testament? Which book of the New Testament do you find hardest to understand? You can leave a comment by clicking here.
I highly recommend that you read
Romans 1-7 For You
, by Timothy Keller. You can purchase it at Amazon.com in
print
or for
Kindle
. You can also purchase the additional
study guide
to go along with it, assisting you in your study.
I received this book free from Cross Focused Media as part of their Cross Focused Reviews blogger review program. I was not required to write a positive review. The opinions I have expressed are my own.