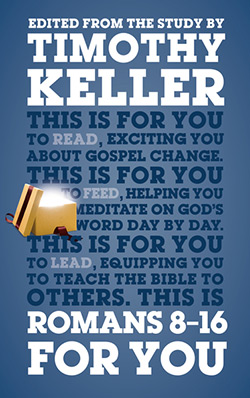 One of my favorite authors is Timothy Keller. And one of my favorite Bible Study series is the For You series from The Good Book Company.
So when I found that a new installment in this series was being released, I grabbed a copy as quickly as I could. This particular volume is the second half of the book of Romans, finishing what Romans 1-7 For You began.
As usual, Keller takes Scripture and brings it to a very understandable level. It doesn't matter how familiar you may or may not be with Paul's letter to the Romans, Timothy Keller can help you glean several gold nuggets of knowledge from each chapter that will deepen your walk with Christ.
Romans is one of Paul's longer and deeper letters. It's one of those books in the Bible that you have to read very carefully, or else you'll miss something. And the chances are good that you'll miss something anyway. Having a resource nearby, such as a commentary or a Bible study like this one, is incredible beneficial.
I have several commentaries on my shelf on the book of Romans for this very reason. Two of my favorites are the College Press commentary on Romans, by Jack Cottrell, and the IVP commentary by Leon Morris. Both of these have helped me immensely as I strive to understand Romans. But this second volume by Timothy Keller, paired with the first half, may just be my favorite go-to resource for Romans.
As with the first volume, Romans 8-16 For You is another excellent study, full of easy to understand explanations of some of the deepest passages of the New Testament.
And again, as with all the volumes in this series, my only complaint is that the Scripture text is not printed in the book. That makes it necessary to have a Bible handy to go back and forth from Keller's helps to Scripture itself. However, that isn't all bad, because it allows me to make notes in the margins of my Bible instead of the pages of a commentary, where I will see them and review them much more often.
Overall, I found Romans 8-16 For You to be just as helpful and encouraging as the first half. I highly recommend that you add this pair to your library.
Question: What is your favorite resource for the book of Romans? You can leave a comment by clicking here.
I received this book free from Cross Focused Media as part of their Cross Focused Reviews blogger review program. I was not required to write a positive review. The opinions I have expressed are my own.