One of the prayers that I pray for my own spiritual life and growth is centered on seeing as God sees: seeing people as he sees them, seeing my circumstances as he does, and striving to see the big picture of his plan for my life, at least as much as I am able.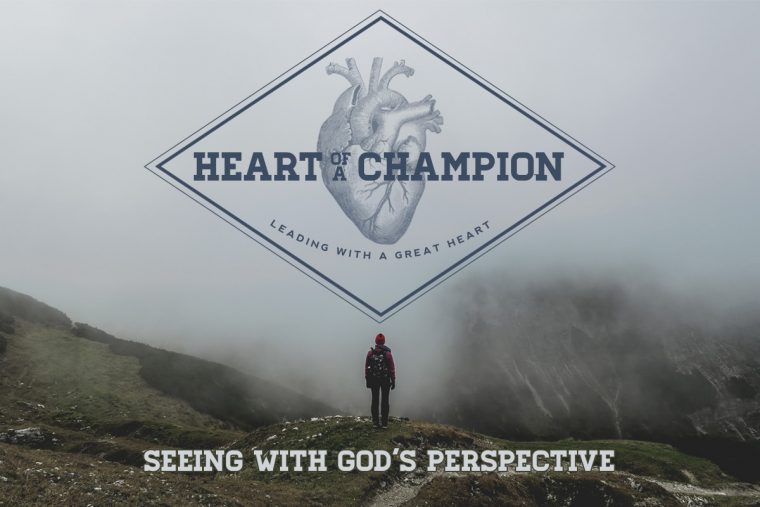 Seeing as God sees is an important part of having a heart like Paul did, the heart of a champion. Seeing things from God's perspective helps us stay centered on the things that are important and helps us feel a connection with God that we might otherwise miss.
When we feel connected to God and his church, we have a greater sense of the Kingdom. We are able to understand just how God desires to build that kingdom by building people. And we sense the urgency that comes with the knowledge that he could return at any time.
Developing and deepening that closeness and connection with God is one of the ways that Paul displayed his strength of character. Look at what he says in 2 Corinthians 3:18 and 4:1:
But we all, with unveiled face, beholding as in a mirror the glory of the Lord, are being transformed into the same image from glory to glory, just as from the Lord, the Spirit. Therefore, since we have this ministry, as we received mercy, we do not lose heart…
When we stay connected to God and develop the closeness he desires, at least four things happen.
We see the big picture
When I was a kid, I can remember my grandmother doing a lot of cross stitching. I can recall sitting on the floor watching her. But from my view, I could only see the back of the piece she was working on. Because of this, I could only kind of see the picture as it unfolded. But she, from the other side of the canvas, could see the whole design as it came together. This is just how it is with our view of God's work. We can kind of see what he's doing, but not really. Of course, he can see the whole tapestry. And as we grow closer to him, we can see more and more of things just like he does. He lets us in on a greater part of the big picture.
We understand the present
When we are close to God, and when we can see a bigger, clearer part of the whole picture, we can better comprehend why things are happening in the present. We can see his purpose at work in the day to day much more than we could when we weren't connected to God. We may not ever fully know why things happen until we get to heaven, but we can view our present circumstances with a kingdom mindset easier when we are closer to God.
We experience a sense of purpose
When our relationship with God is closer, we feel a strong sense of purpose, knowing that we are his tools, and impacting his kingdom and the people around us. When we know we have a specific role to play, it can create a stronger desire to grow even closer to God, and help us stay on course.
We gain his strength
Seeing the big picture can help us with the strength we need to continue. If we cannot see the goal, we get tempted to give up. But when God helps us see with his eyes, we also gain his strength.
It's a pretty amazing feeling when God lets us in on what he is doing. When we see his hand at work more clearly, we are energized to grow even closer and closer to him. Paul experienced this, and so can we.
Question: How connected do you feel to God and his purposes? What can you do do grow closer to him? You can leave a comment by clicking here.